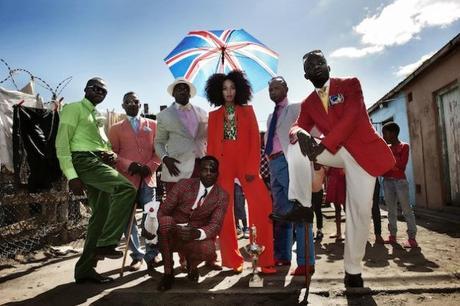 Image: Daniele Tamagni
Have you heard the new track from Beyonce's sister? Unfortunately, that's not the first or last time global superstar Beyonce will be referenced when talking about Solange Knowles, but luckily for Solange, she has gone down the less commercial route and produced a truly unique and chilled out R&B alt-pop vibe. Released through Terrible Records and co-written by Blood Orange's Devonté Hynes, 'Losing You' is currently available via iTunes.
As a follow on from her 2008 album 'Sol Angel and the Hadley Street Dreams', 'Losing You' is a vibrant indie pop track filled with 80's inspired instrumentation, quirky off-kilter beats and  accompanied by Solange's smooth r&b vocals. Shot on Location in Cape Town South Africa by the talented and artistic Melina Matsoukas, the video sees Knowles take centre stage in this cultural and visual display, as she chills with friends and the ever stylish members of the Le Sapeur Society (The society for people of elegance and ambiance – otherwise referred as the 'religion of clothing'.)
 "When Melina and I decided to film 'Losing You' in South Africa, we really didn't have a real firm concept in place. It was sort of a grab a camera and let's go moment. I knew I wanted to capture a couple things: the vibe of our friendship and all of the crazy escapades we've gotten ourselves into all over the world, and the abstract and elegant Le Sape Society' (Pitchfork)
Currently Record Of the Week for Annie Mac on BBC Radio 1, Annie will be playing out part of the interview each night between 10-12am. Hopefully this new direction will be the perfect opportunity for Solange to be an artist in her own right, and not have 'Beyonce's sister' attached to every reference.