The unofficial start of Summer is here and that means short shorts, mini skirts and flirty dresses…well for some people at least!

J

With all that leg baring happening, I thought I would share some of my tips…and really just general routine…for achieving perfectly smooth, soft, stubble-free legs!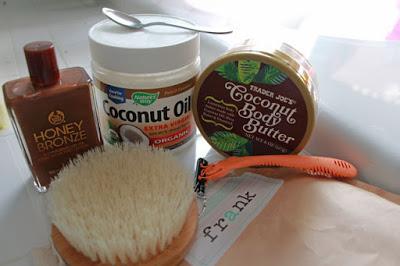 The first step to getting smooth legs and also prepping for a closer shave is to exfoliate. Personally I don't find the standard sugar scrubs to do a good enough job on my skin, though I'm sure they're fantastic for plenty of you out there. My absolute favorite ways to remove the old and bring out the new is either with dry brushing or the more intense scrub that is frank. I have discussed both before, so I will just briefly touch on them here. Dry Brushing is basically a technique that requires brushing a somewhat stiff body brush (check out my review of the new EcoTools one here) over dry skin to exfoliate dead skin cells and improve blood circulation to the skin. It's a fantastic way of getting soft, healthy skin without a huge fuss or mess. The epic scrub known simply as frank I actually find to be a bit more intense (to read all about frank, check out my review here). frank is a physical body scrub made with mainly coffee grounds, sea salt and various oils that you use in the shower. I find it to be a bit less convenient than dry brushing, but I really, really love frank!

J

It smells so delicious and it also helps to moisturize the skin while scrubbing away the old skin. No matter what method you prefer, exfoliating the skin is key to getting the smoothest, softest skin.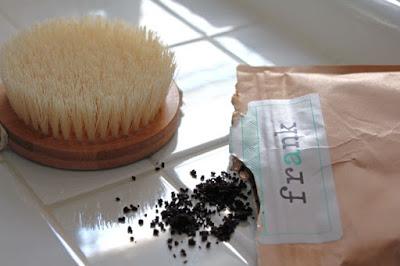 For most of us, smooth legs also involves shaving. I actually prefer waxing, but it's such a pain (no pun intended) to either have it done or to do it yourself. Not to mention, it's difficult to do on the spur of the moment should a beach trip suddenly come up! Unless you've had laser hair removal or eschew the idea of hair-free legs, you'll probably have need for shaving at some point in your life. So, I've found that to get the best shave without nicks, cuts or irritated red bumps (my constant problem before this trick!) is to use Coconut Oil in place of shaving cream. I written about this before too, which you can check out here. I haven't tried other oils, but they would probably work as well. I just find that I really like using coconut oil because since it's always solid when I begin, it literally melts onto my skin and sticks around until I pass over it with a razor. It seems to help the razor really glide over the skin while still being well controlled so I don't end up with nicks or cuts pretty much ever. And those horrid itchy red bumps from irritation that I used to struggle with so badly have not reared their heads again since I've switched to coconut oil for shaving!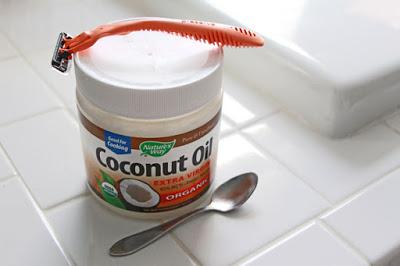 Now that the bulk of the work is done, it's time to seal in some moisture with a good moisturizer. My favorite? Yet again, it's Coconut Oil! You can use any moisturizer you like be it a body butter, lightweight lotion or some sort of body oil. Whatever works to hydrate your skin comfortably is really the important thing. What I find wonderful about coconut oil is that it is highly moisturizing (I only use it after bathing) and it lasts. It doesn't have a very strong scent and I know that some would find it way too heavy or greasy, but I just love the super soft feeling of my skin when I use it. It never feels softer! To apply it, I pat off excess water after bathing and while still standing in the shower, I grab my little baby spoon to scoop out the solid oil (yes, I really do use a baby spoon

J

) and apply it like any other moisturizer, rubbing it in until the oil has fully melted into my skin. Once that's done, you can pat off a bit again if you're feeling a bit greasy, but I usually just get out of the shower and go about my hair and skin routines. I love that I don't really have to get out of the shower to apply the oil because I hate that instant blast of cold when I step out of the shower. This process allows me to kind of acclimate to room temperature slowly. Granted there are plenty of times that I just use a more traditional lotion or probably my all-time favorite body butter – Trader Joe's Coconut Body Butter – but I find a bit of coconut oil is by far the easiest and most effective way to achieving baby soft legs.

J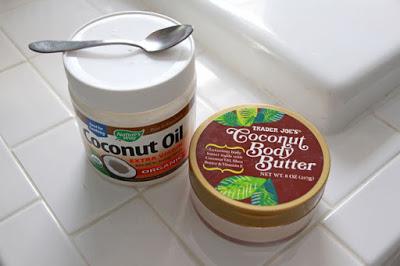 That's it! Nothing special and nothing fancy, but I find that these steps have made an enormous difference in the smoothness, softness and even healthier glow to my skin. If you are a self-tanner, something that I never do because I just embrace my paleness, but that's obviously another step that can be added as appropriate. If it's a special day or a fancy night out and you want to just boost your skin a bit – tanned or not – check out The Body Shop's Honey Bronze Shimmering Dry Oil. It's basically just a slightly shimmering body oil with a hint of tint to it. It's not going to give you a tan by itself, but it will make your skin look healthier, more glowing and just a bit more beautiful no matter what shade you're starting with. Be warned though – it has a pretty strong fragrance that's kind of a fruity-floral to me…and it lasts. I like the scent, but it's not everyone's cup of tea. If you don't mind the fragrance, it also makes for a great softness boost if it's been a while since you've moisturized.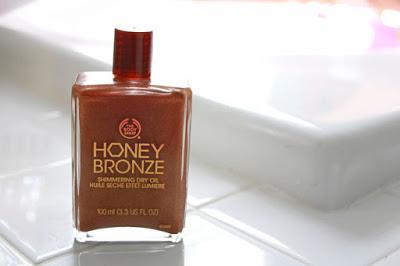 I'd love to know if any of you already use any of these tips, or if you try them out, how you like them!

J

I used to have the worst problems with ingrown hairs and just horrible irritation on my legs before using these steps. Granted, I don't always exfoliate and once in a while I will skip the post-shower moisturizer, but I never ever forget the coconut shaving oil if there's a razor in my hands! That has made the biggest difference of all and I am so thankful to have finally found a way to keep my legs hair free without too much fuss and absolutely zero discomfort. I hope this has been helpful and I'd love to hear what you all think!!! As always, thank for taking the time to check out the blog and I hope to see you again soon!

J