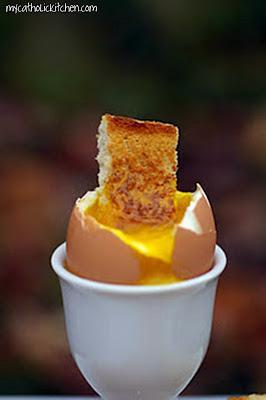 I feel kinda guilty about this next post. This dish was so easy to make and simply delicious. I don't really consider it a recipe. We are at # 37 in our 
Gourmet 50 Women Game Changers
. This is where Mary from 
One Perfect Bite
leads us through all 
50 women game changers.
Today is Saverine Von Tscharner Fleming. Say that ten times fast!
There has been an overwhelming interest and demand in organic food. It makes us beg the question, where is our food coming from? In this instant access to everything, we want fresher cleaner ingredients for our diet. As consumers we have become more savvy in knowing what gets put on our plate.
This is where Severine Von Tscherner Fleming comes in. She is an activist, promoter, farmer and agrarian. Her grass roots organization helps supply the tools and support for new farmers.
Severine made a documentary called The Greenhorns. In this documentary she discussed a sleuth of modern issues such as environmental contaminants and farm bills.
Severine graduated with a B.S. in Conservative AgroEcology from University of California Berkley. This force of nature is the co-founder of the National Young Farmers Coalition.
 In honor of her, I made soft boiled eggs. You can get the recipe
here
. I also provided one below.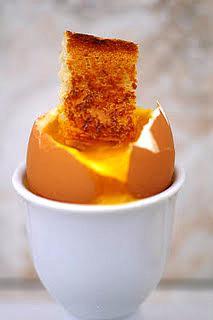 Three Minute Egg
Soft Boiled Egg
1 fresh egg
1 baguette slice
butter
salt and freshly ground pepper.
Directions
Put a medium saucepan filled half way with water on the stove over medium to high heat. Once the pan begins to boil add the egg to the water and set the timer for three minutes. While the egg is boiling toast the baguette slice and slather with butter.
When the timer goes off remove the eggs with a slotted spoon. Turn off the heat. Place the eggs in the cups and cut off the top of the egg. Sprinkle with salt and pepper. Dip the toast into the egg. Using a spoon scoop out the egg and enjoy.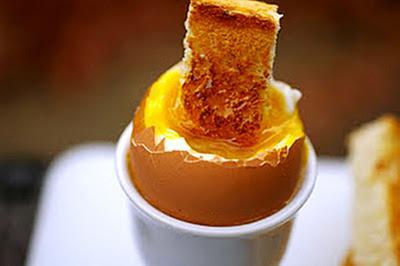 The following bloggers are also featuring recipes from Seveine Von Tscharner Fleming.  Please pay them a visit and see what they have to bring to the table.
Val - 
More Than Burnt Toast
, Taryn - 
Have Kitchen Will Feed,
 Susan -
 The Spice Garden
, Heather -
 girlichef
, Miranda - 
Mangoes and Chutney
, Jeanette - 
Healthy Living
Mary - 
One Perfect Bite
, Kathleen -
 Bake Away with Me, 
Sue - 
The View from Great Island
 Barbara - 
Movable Feasts
 , Linda A -
 There and Back Again, 
Nancy - 
Picadillo
Mireya - 
My Healthy Eating Habits,
 Annie - 
Most Lovely Things
, Claudia - 
Journey of an Italian Cook
, Alyce - 
More Time at the Table
, Amrita - 
Beetles Kitchen Escapades
Please join us next week when we feature Darina Allen.
Peace be with you, Veronica