Eek! well finally got my over 40 eyelids out for inspection...do you have any idea what macro mode on a camera does??? I like to focus on the positives and can confirm that after the first photos yesterday my eyebrows have had a serious make over (I blame my presbyopic eyes.....that's from the Greek "Old man's eyes" - don't worry....it WILL happen to you all!).
Thought I'm not an expert, I just wanted to share one of my very simple soft day looks and ask if you'd like to learn more?
One of the reasons I started this blog is that whilst loving' and subscribing, to lots of bloggers out there I've noted most are in their early 20's and can pretty much carry off any look that's going.  As we age, oh yes it will happen to you!, our faces change, once taught eyelids take on a more...erm...chilled and relaxed look ....and dare I say crepey appearance?  So we have to vary our make up techniques accordingly.
This look isn't perfect, I'm not a MUA and to be honest it's just what I threw on this morning.  I have lots more 'looks' but thought I'd keep it simple today...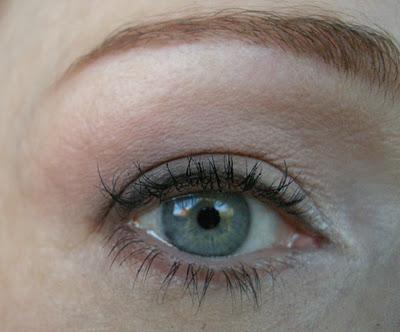 Products used:
Bourjois 10-hour sleep effect foundation in 72
Collection 2000 Concealer in Light (applied with brush under eye area)
MAC Blanc Type (applied with ELF Contour Brush all over lid)
MAC Haux (applied to crease with MAC 217)
MAC Espresso (applied to outer corner with pencil brush)
HD Brows Foxy Palette - Carbon (applied with ELF push eyeliner brush to upper lash line)
MAC Phloof (applied to inner corner)
HD Brows Foxy Pallette - Ash Brown (applied with angle brush supplied with palette)
Daniel Sandler Baby Jet Mascara in black
Laters Peeps!
Lainey x