You may have seen my post earlier today regarding the fantastic deal on Orly at CheapSmells.com - it was one of a selection of special deals valid until tomorrow (4th March 2012) you can find the rest here.  Now, until I discovered this deal I thought CheapSmells was all about great value perfume deals, true you they are but did you know they also have great deals on cosmetics, skincare, haircare, bath and body, accessories and even fake tan?  Well I didn't but after perusing their website I'm just so excited and I've picked out some of the best deals I found for you. They also include FREE deliver regardless of order value! I usually don't like the word 'cheap' I prefer, 'great value' of 'savvy' or words that make me feel smug about finding a deal as opposed to 'cheap' - I'll let this one go though because just look what they have on their website!
M.A.C. Wow MAC, I'm especially impressed because these are current products.  I've been after Craving for an age (craving for Craving?! and there it is at a 20% discount!  I'm also on my third tube of Viva Glam VI lipgloss that I've always bought from the MAC store....23% discount! There are lots more available and I've linked to the pics if you want to see the full range.



Look MAC eye shadow!  I usually buy pro-palette refill pans which are cheaper than the packaged eye shadows, but they've recently been increased in price to £10 on the MAC website, but just look at this prices! Plus, the packaged eyeshadow is now £12 not £11.50 so you're saving even more. I'm definitely going to buy some of these and de-pot. The containers should also then be good for Back to MAC for a free lipstick - Yay! I've included a couple of pictures of my favourites but there are lots more including Brulee and espresso! You can see the full range here




Other bargains I found are:
Benefit
Woo 59% discount!

Urban Decay
60% discount!

Clarins

OPI

Orly
Yes that really is full size for a fiver!

Haircare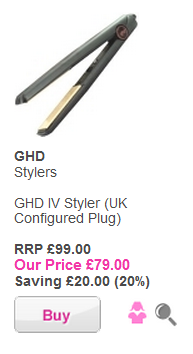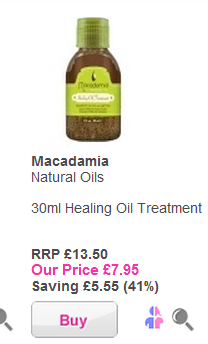 I could go on and on but I had to stop there! Other brands include Bobbi Brown, YSL, Stila, Christian Dior, Smashbox, La Prairie, Lancome, Estee Lauder....oh probably best if you look for yourself 
They promise dispatch within one working day and there are several options you can read about here.
I'm unable to give a personal recommendation as yet as I placed my very first order today, but I'll update this post as soon as my order arrives!
What do you think?  Have you used CheapSmells.com before?
Laters Peeps!
Love Lainey
xxx