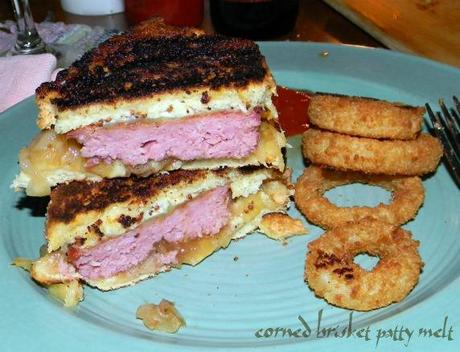 I know what you are thinking, looks good but what is it?
I follow enough blogs daily that I can count on my fingers and when you head down to the toes, they cover the ones I get in my reader that I check 2x a month.
Reasons why I am not a habituate with blogs is, I tend to travel from blog to blog the way I think. I never know where I will end up, but getting there is an adventure. Every once in a while I will email myself a published post that I want to keep for references but don't have the time to totally absorb them. Those get put into folders marked magazines, blogs, wish list recipes, etc.
Once a month I spend a Friday reading them. This is were I polish up the bunch. This is were my idea for this dish came from.
The Nudge loves a good corned beef sandwich, he refuses to eat those boiled cabbage and potato pots, so every year I try to find a recipe that showcases the brisket in different ways. This year I came up with a great idea and after passing it by The Nudge, I peaked his interest also. So much so that when I started to question my sanity he pushed me back onto the straight and narrow. I had no choice but to peruse this avenue.
The Pioneer Woman made Patty Melts on her Food Network Show and The Nudge happened to see this episode and he muttered, "yum, don't they look good". Since he is not a fan of cooking shows (expect Jacques or Bobby) when he expressed interest in a dish my ears perk up and they did.
Mental note "put patty melt on the menu".
While checking out the pink meat in the sealed bags an idea immediately hit me and I picked up the smallest one I could find with the best marbling of fat I could see. I was going to grind down that brisket into ground meat for burgers.
Not just any burger, ones shaped like a piece of sliced soda bread and make a Patty melt straight from that show. Now who's cooking with gas?
You do not need a meat grinder, you could easily ask your butcher to do one for you or use your food processor.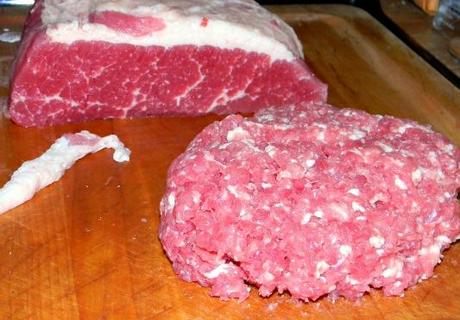 Remove the meat from the corning liquid, wash the juice off, dry it well and cut away the layer of fat from the top of the meat. Mine was well cleaned and all I had to do was slice and cut 14oz of 1/2" cubes, place them into a freezer zip bag, fill the bag as it lays flat on a cutting board and place in the freezer for 15 minutes.
If your brisket does not have the nice marbling as mine did, use some of the top soft fat (nothing hard please).
Grind 1/4 at a time (about 3/4 cup at a time, pulsing 10x and then checking the meat. It should look exactly like the ground round you buy in the store only pinker).
Git to the store and buy you some corned beef brisket for $1.99 lb. and freeze them before they go back to $7.99 lb. I am serious, DO IT NOW.
I use beef briskets for burgers many times and they always come out juicy and tender. A brisket has marbling that when you grind it, it not only distributes the fat throughout the meat, it tenderizes it.
Why not use a corned beef brisket? It will have the corned taste we love this time of year but with the outside crust and juicy interior of a great burger. Make a patty, top with Guinness caramelized onions, a slab of really good authentic Kerry Gold Cheddar cheese and put it on your panini press and you have something spectacular.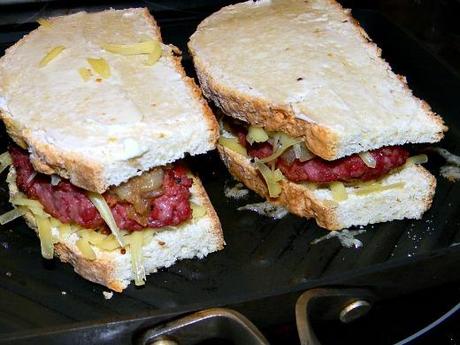 OMG I hit the jackpot with this.....you have got to taste it. At first you taste the salt but with the sweetness of the whole grain mustard and the sweet onions, the creaminess of the cheese, you just get taken to another level. Oh YES, this is a keeper!! I did something great........whoohoo!!!
We both decided we would love to grill them next time and make them thinner. The bread was all wrong, a good Ciabatta would have been a better choice but not Irish, so next time.
I also think I would love to make meatballs with the ground corned beef and make a cabbage and potato soup to simmer them in. 


Happy St. Pat's Day to everyone who feels green.