Ever wondered why you don't use your regular body soap on your face? Because, the harsh cleansing ingredients in traditional soap can strip the skin of its natural moisture, leaving it feeling tight and dry. So, why do you put your body on stake knowing the harshness of the body soap? Pamper your body just like you pamper your face. This is the reason for existence of "Soap Square".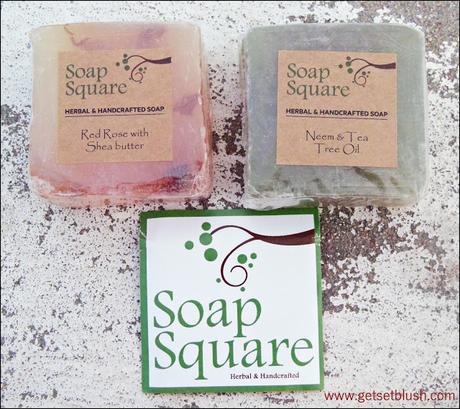 About Soap Square
Soap Square makes premium quality luxury natural and handmade soaps. These soaps are handcrafted with careful consideration for skin's needs using essential oils, glycerin and natural ingredients. These vegetarian soaps contain real fruit extracts and no parabens or petrochemicals were used in their production. They are also SLS Free and Cruelty Free. Brand says, "We are extremely careful of what we put into our bodies but not of what we put on them." 
Renu Dissoria and Mahima Dissoria are the key people behind this brand and I somehow felt the "Women Power" and was really glad to review their best-in-class products. You can find them on their official website and Facebook page.
Red Rose with Shea Butter Soap Price – Rs. 250/- Key Ingredients – Activated Charcoal Powder, Grape Seed Oil, Raw Sugar Syrup, Glycerine Soap Base Best suitable skin type – dry, delicate or aging skin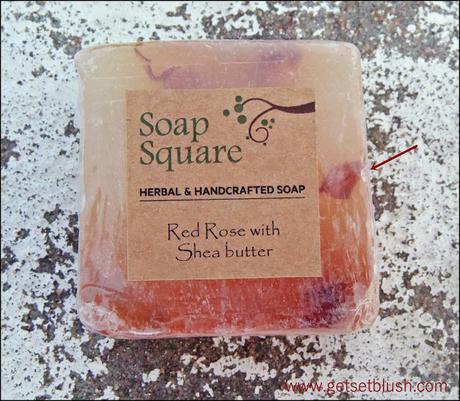 This soap is made with Red rose and Shea butter as it's primary ingredients. As we all know the boons of rose petals which are rich in antioxidants and are anti-inflammatory and antibacterial. Shea butter is one of the best moisturizing, anti-ageing, regenerating and protecting natural agent for the skin. This soap helps in toning and moisturizing of your skin. It gives your skin silky smooth softness with a natural fragrance.
Neem and Tea Tree Oil Soap
Price – Rs. 200/-
Key Ingredients – Neem oil, Tea tree essential oil, Neem powder, Glycerine soap base
Best suitable skin type – acne ridden skin or skin with blemishes and dark spots.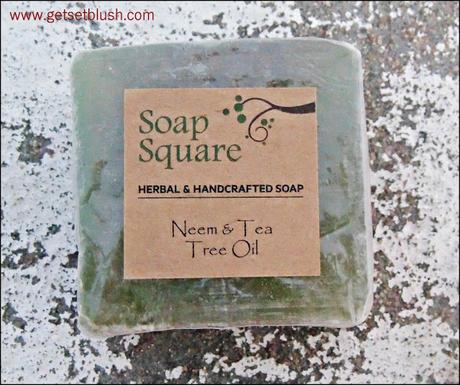 Acne loves me so much and it visits me very often. But, I kiss a good bye to acne with my super weapon - Tea Tree oil. I am a very big fan of essential oils and tea tree oil does wonders to my skin leaving it clear and blemish-free. When the Tea Tree Oil avenger works hand in hand with Nem avenger, it results in an acne free smooth skin. This soap aids to keep excess oil in control, tones the skin thus preventing acne outbursts.
Pros:
1. Soaps are SLS Free, Paraben Free and Cruelty Free.
2. They are made from natural ingredients.
3. They are suitable for all skin types and few are best suitable for recommended skin types.
4. There are wide ranges of soaps such as "Crushed Strawberries with Shea Butter", "Oats & Vanilla with Shea Butter" and "Sandalwood & Turmeric with Aloe butter".
5. Gives sufficient lather with mild fragrance.
6. Gives you soft, supple and moisturized skin.
Cons:
As it is still a budding venture, the soaps are not available in regular stores. We can currently book them only through online. Apart from this minor con, I did not find anything else worth penning down.
My Rating: 5/5