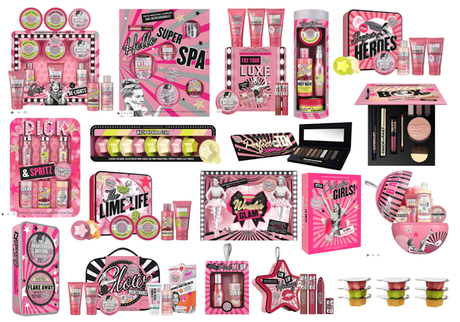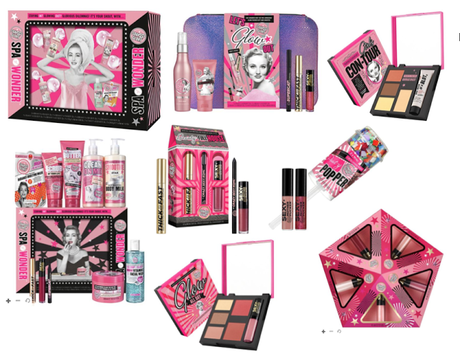 It isn't Christmas in my house without a Soap and Glory gift set or two! This year I think they have topped their past collections and are back with bigger and better gifting. I love that they have also bought out an Advent Calendar too, this is one that I have been seriously excited about. There is definitely a gift set for every budget this year and they are on 3 or 2 at Boots! 
- Winter Wonder Glam Gift £50: Packed full of makeup from brow products and eyeshadows to lipglosses. 
- Flatterbox £20: Comes with my favorite eyeliner, eyeshadows, glosses and more!
- Perfect Ten Palette £16: A cooler toned eyeshadow palette. 
- Lip Lip Hooray! £8.50: Includes three lip products, two glossy finishes and one matte. 
- Hello Superspa £20: Comes with full-sized products and travel sizes! My favorite face wash is included in this. 
- Glow Maintenace £18: This is one of my favourites from the range this year. Comes with six products in a gorgeous cosmetics washbag. 
- Box of DeLights £16: Includes shower gels, exfoliators and body creams. 
- Try Your Luxe £16: Comes with mini body products and gloss sticks. 
- The Zest a Girl Can Get £16: This gift set will satisfy your zesty-fresh obsession! 
- Glow-Ball £14: Includes body wash, body cream, hand cream and a body polish. 
- Pick & Spritz £12.50: Comes with three mini body sprays and three mini body washes. 
- The Lime of Your Life £10: Includes body wash pods and mini sugar crush favourites. 
- Wash Upon a Star £8.50: Comes with nine body wash pods, perfect for the jet-setter! 
- Special Edition Soaper Heroes £10: Includes come of my personal favourites and two body wash pods. 
- Pink Me Up £5: Comes with a mini Clean on Me and a body spray, a great secret Santa gift for stocking filler! 
- Get a Smooth On £5: Includes Flake Away and The Righteous Butter. 
- Calendar Girls Advent Calendar £40: This is coming soon to Boots and will include a good mixture of minis from the brand. 

- Spa of Wonder £60: Includes ten products(!!!) most of which are full sizes. 

- Let's Glow Out £25: Comes with five products in a stunning makeup bag. 

- Pout-y Popper £6: Two mini lip glosses inside a party popper (HOW CUTE?!)

- Girls Con-Tour £14: A Palette with my favorite primer included. 

- Glow All Day £14: A Makeup palette with a lip gloss. 

- Beauty-Full House £10: Includes a mascara, liner and lip gloss. 

- Happy Kiss-Mass! £18: Comes with five mini Sexy Mother Pucker Lipglosses.

What is your favorite set from the collection?