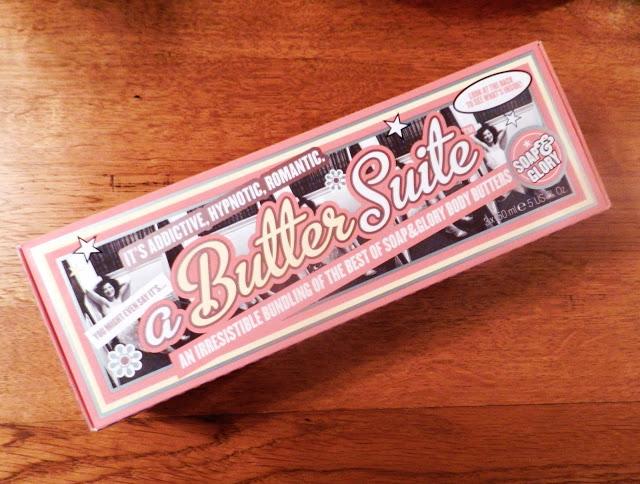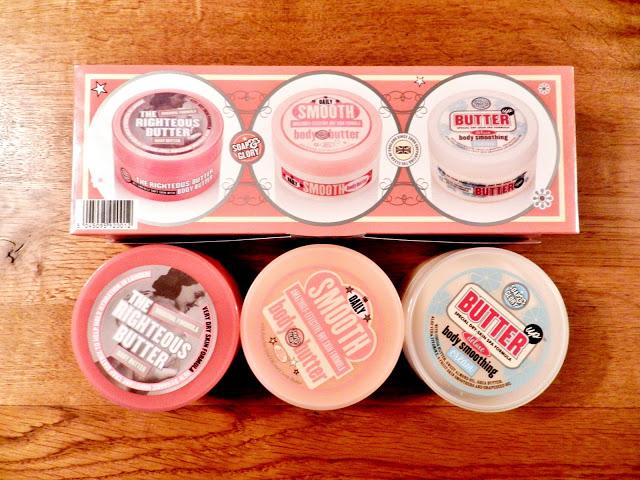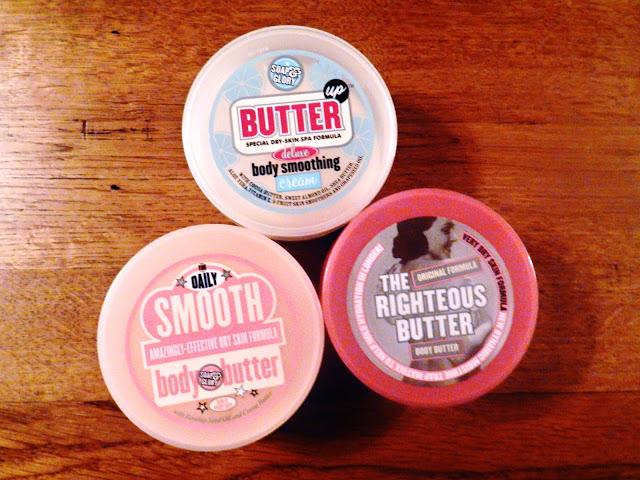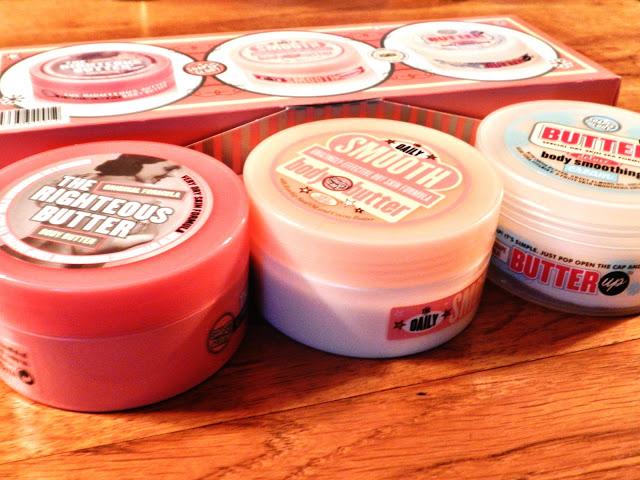 Soap & Glory - A Butter Suite £15
If you follow this blog on a regular basis, you'll know that unlike a lot of the beauty bloggers out there, I have never really been big on the whole Soap & Glory phenomena. It's not that I have ever disliked their products, in fact, those that I have tried I have always been a big fan of - I've just never bothered to go out and purchase many for myself, usually receiving them more as gifts. Recently though, I went out and bought the 'Sugar Crush' scrub - shower gel - body butter trio, and I must confess, I think I'm hooked! 
A good body butter is something I find absolutely essential during these long, cold winter months, and so this opportunity to sample a trio of the butters on offer from Soap & Glory was something I jumped at the chance of doing. 
First off there's the infamous 'Righteous Butter' - a rich cream formulated to keep dry skin at bay and maintain hydration throughout the day. I must say, it does a fabulous job of this and as is more often than not the case with S&G products it has a gorgeous, long lasting scent and will have you feeling super soft and sensuous in no time.
Next there's 'Butter Up' - what claims to be a skin smoothing cream containing amongst other things cocoa butter, sweet almond oil, shea butter and aloe vera. The sound of these ingredients alone managed to excite me, and I wasn't left feeling disappointed - if smooth is what you want then smooth is what you'll get!
And then finally, there is the 'Daily Smooth' body butter - probably my least favorite of the three though still a really nice product. Smells lovely (though not quite as nice as 'Butter Up' - in my opinion at least), does a great job of making the skin feel silky smooth - my only criticism (if you can call it that) is that I don't feel as if it's doing my skin quite as much good as the other two butters are after application. Just personal preference!
Overall, I would definitely recommend picking up one of these sets if you're a lover of body butters on the whole and if you're looking to try out more products from the range without having to pick up the full sizes. I know I'll get good use from mine for a long time to come!
Has anyone else tried the Soap & Glory body butters? If so, which one has been your favorite so far?