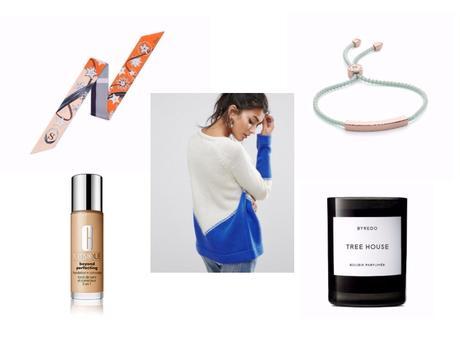 Dior Monogram Scarf  |  Monica Vinader Friendship Bracelet  |  ASOS Chevron Jumper  |  Clinique Beyond Perfecting Foundation + Concealer  |  Byredo Tree House Candle
After a long hiatus from posting on here, I thought I would kick start things again with a trusty wishlist. It's my birthday next weekend, and so I've a few things in mind that I might treat myself to in celebration of turning another year older - you've got to spoil yourself sometimes, right?
I've liked the idea of the whole 'scarf wrapped round the bag handle' trend for a while now, and the Dior monogrammed scarves are just too beautiful to resist. I also feel like the gray and blush tones in this one would be perfect for spring.
Sticking with the pastels - I'm a fan of anything and everything Monica Vinader, and this mint coloured bracelet is super cute. I've quite a few pieces from the brand now, and really like the fact that they offer free engraving, hence I'd quite like to take advantage again and get something 'personalised'.
Make up wise, I've spent the last few months trying to use up/whittle down what is in my substantial stash, and so it's been a while since I've tried anything new in terms of base. There has been so much hype around this new offering from Clinique though, that I am dying to give it a try. The fact that is claims to be both a foundation and concealer in one is the obvious draw, though I'm most intrigued by the giant applicator! It looks so convenient!
One of my favorite things that I got in the Liberty advent calendar I had this year, was a Byredo hand cream in the scent Bal D'Afrique. I had never tried anything from the brand before, and so I was very pleasantly surprised. I had been tempted to invest in one of their scents, however, my perfume collection is overflowing at the moment and so I thought I might check out one of their candles instead. I've heard quite a lot about Tree House, and the top notes of bamboo and pimento sound right up my street.
And of course, no February birthday could be complete without a jumper to cosy up in. I love the block colours of this ASOS offering!
What's at the top of your wishlist right now?
Sarah x