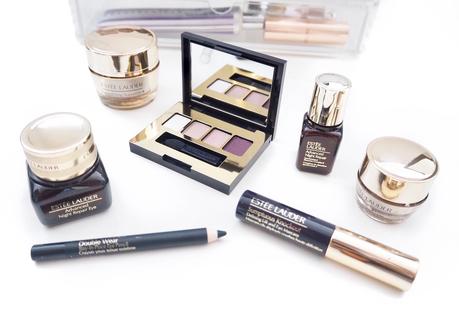 If you're a regular reader around here, you'll know what a fan I am of Estee Lauder as a brand. The Advanced Night Repair Complex, Global Anti Aging Eye Balm and of course the Double Wear Concealer are some of my all time favourites when it comes to both make up and skincare, and so when I saw the free gift with purchase currently available at John Lewis, I jumped at the chance to be able to share it with you all.
There are over thirty beautiful 'bundles' available - which you can view online here - that when purchased, mean you'll also receive all of the following, alongside a gorgeous cosmetics bag to keep it all in;
Advanced Night Micro Cleansing Foam 30mlAdvanced Night Repair 7mlSupreme Global Anti-Ageing Cell Power and Creme 15mlRevitalizing Supreme Eye Balm 7mlPure Colour Envy Eyeshadow Quad CompactDouble Wear Stay-in-place Eye Pencil in OnyxSumptuous Knockout Mascara in Knockout Black 2.8ml
The bundles generally comprise of two of Estee Lauder's 'cult' products, and include a mix of both skincare and make up for you to take your pick from. Included are best sellers such as the Double Wear Stay-in-place Foundation and the Advanced Night Repair Complex itself, and so if you're after a special gift for someone or are just looking for a reason to stock up then this is the perfect opportunity.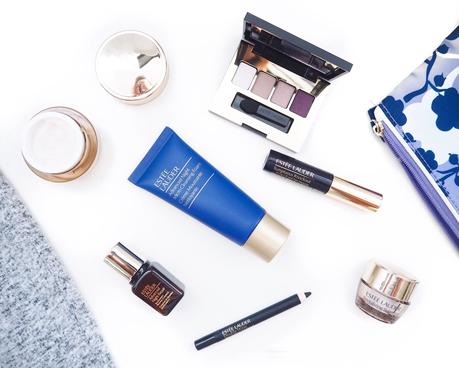 Personally, I love getting free gifts like this as it gives me the chance to test out some new products that I perhaps wouldn't have considered trying previously. And, even more of a bonus if you're a 'travel sized' hoarder like me, is when some of your favourites arrive like this in miniature form!
Make sure to let me know if you decide to take advantage of the offer, and if you do, whether you find any new loves as a result! 
Sarah x