OK, here's the headline: "Trail Racers Straight-Up Stupid Friendly" oh "And Their Races Are Straight-Up Stupid Fun!" and that pretty much describes the 2013 Hagg Lake Mud Run 25k experience for me.
Look, I'm a friendly guy. In fact, on a friendliness scale of 1 to 10, with 10 being Santa Claus and 1 being Leona Helmsley, I would say I rate about an 8-ish to 8.5-ish. You know, in the Micheal J. Fox to Ronny Howard area, so I must say that I felt really whelmed bordering on overwhelmed by the friendliness of the people at this event - both the organizers and the racers. Nice, nice and friggin' nice combined with helpful, helpful and friggin' helpful. Ya just couldn't ask for a better bunch. The racing part however was tough; really tough...and slippery. Yep, tough and slippery would be how I would describe this race. Oh and this, I had been told, was a "dry year." Hmph. OK, now for the race report because you must all understand just how hard I ran and how much I suffered:(spoiler alert! It was a lot.)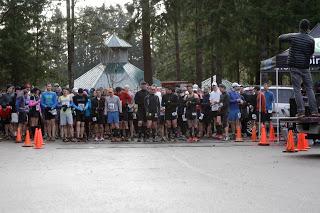 The Hagg Lake Mud Run 25k start was in a parking lot with a large shelter which was also the finish area and as usual I got there a bit late and so, as they were giving last-minute instructions, I was pinning my race number on in that panicky way that late people do everything. Once that was accomplished I wriggled my way into the middle of the group which is about where I figured I would place and got ready (go!) the race started as I was finishing that thought and we were off and running.....up a hill....to a turnaround before running back down the hill...and into the parking lot again, where the real trail started.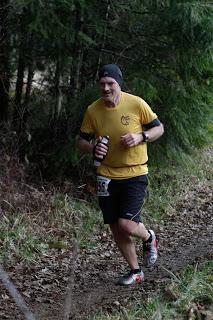 Now I ain't sayin' that everyone went out too fast but I think a large percentage may have misjudged pace here a bit and, yes, I do include myself in that group but to be fair I was already running late and was in that adrenaline fueled, frantic, hurry-up mode so I had an excuse where as the rest of the field...not so much. (Yes, I am justifying my behavior and if someone out there doesn't like it well, they can start their own blog and take exception all they want.) So, I'm tellin' ya, by the four-mile mark I was sure I had blown it and was thinking of slowing the pace substantially (adopting a run/walk strategy) when I began talking to a guy (OK, he did the talking while I panted affirmatives), that had been pacing a few of us for a couple of miles. He was 64 and retired Navy, lean and fast and chatty, so we began to talk a bit about the race and pacing and other stuff and as the last mile to the first aid station flew by I realized that I perhaps had more in the tank than previously thought and so kept that pace and eventually increased it a bit to match another runner who passed us by at a slightly faster pace. So then, of course, follows the part where the faster pace starts to take its toll and it's here in the race that I seriously began to wish it was over. You know the place where fantasies of trail injury start to sound less of a bad thing and more heroic and even downright appealing.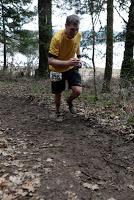 And it's here in this narrative that we're going to take a little break from the race whilst I ponder on this blog and the weirdness of how much I like this running thing now, especially considering that until just few short years ago I looked at all you runners just like most of your nonrunning friends look at you today. You know what I'm talking about: they give you that, "You've got to be fucking kidding me - 15 miles...in one day!?! Get a freakin' life!" I could not fathom the how or the why. Seriously, why would anyone want to do something like that? I now know the answer is...um...I mean it's so obvious.......it's because it makes me feel like um.........................sorry, I got nothin' but it must be something good or I/we wouldn't do it; right?
I ran my weekly long run yesterday and had a plan to do 17 miles with 8 miles at marathon race pace. During my first 5 1/2 miles at race pace, whilst feeling the discomfort I was wondering real hard about, you know, why I love this running thing but then I noticed just up ahead a barefoot runner on the rough and shitty asphalt of the Springwater Trail and, for the love of God and all that is holy, he was going slower than I was. This was like a gift from the universe and I slowed right down to commune with my fellow barefooter and I will tell you now that we geeked out, majorly: About our barefootedness and how we never run into anyone running barefoot and the places we run that are great barefoot and the places we run that suck barefoot and all things barefoot and totally geek.
So after the mile or so break in pace and great geeky conversation I felt the love of running return and as we parted ways, reluctantly I was able to continue the last couple miles back at marathon pace, which was hardly enough time to hate running again, and now you know one of the possible reasons why I love running. (Excuses to slow down.)  OK, back to the race: The field of runners were mostly a diverse group of people with a slightly Oregon Country Fair-ish type of vibe minus the weed and drum circles. They were very friendly and approachable and smiling and fun and while racing they seemed to retain this camaraderie and attitude that was really refreshing.
As I came out of the trees to the last aid station I remember thinking how the trail had not been that slippery and so, of course, that's exactly when the trail turned into the mud trail from hell, and no one was going down without a splash. It was wacky and I'll bet a video of this section would go viral on YouTube with a little Yakety Sax as background music. This pretty much lasted all the way until we came back out onto the road again but just for a brief bridge crossing and then back onto the trail for the last 1.5 miles and the finish. I had nothing left in the tank by the last 1/4 mile section and so didn't make a showy sprint in but felt as if I had. They handed me the medal and directed me to the waiting finish area which was far and away the best I've ever had the pleasure to recoup in. Covered, food, space heaters, friendly people to talk to, food, space heaters, even instant results via large TV monitors. I got 111th place and 8th in my age group. That's right, I'm mid-packer all the way.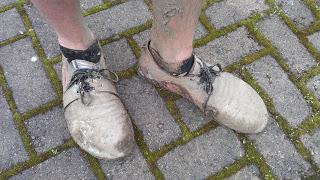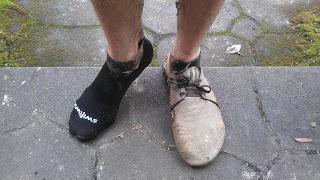 I ran in my Soft Star Dash Trails and must say that they will 100% keep your feet comfortable and dry in nasty slimy mud. I stepped into mud up past my ankles a few times and always came out with dry feet. The tread on them is a 5mm Vibram trail sole which has worked great on lightly muddy and dry trails but on this kind of mud they felt slippery however my feet felt great afterwards and I still have all of my toenails. BTW they shine right back up afterward with very little effort and I do wear them out into the world because I'm high stylin', ya'll.
What I learned at Hagg Lake:
a) running two measly training runs on trails in the midst of a bunch of road running does not make you a trail racer; or at least it doesn't make me one.
b) running in shiny pewter shoes does make you more bad-ass as well as taking at least 12 minutes off your total time. (Scientific fact that I can probably prove sometime, when I have a spare moment and the motivation and whatnot.)
c) trail racers seem to smile a lot, especially when they pass you by and for some reason they all have to tell you that you're "looking good!" as they zoom off into the distance. I think they liked my shoes and I kept looking for my opportunity to say the same but these people would not whoa it down.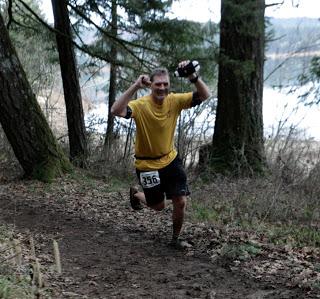 d) post-race area is stocked with the best post-race stuff, including grilled cheese sandwiches, soups, hotdogs with kraut and brownies, as well as muscle milk and all the usuals, plus plenty of space heaters to go around, and the last thing I expected was two big screens with live race results. (One complaint was that there was no "special" brownie option; however this is not Holland or Washington State, I get that now.)
I would highly recommend this race for anyone who likes a trail race and mud and stupid-friendly-ass people and also a great finish area supplied with food but no pot brownies. One note: I had some difficulty registering for this race online but when I asked for help on the website it was the race organizer, Todd Janssen, who helped me get squared away. It was like I was the President or something and Todd couldn't have been more helpful or kind. He even remembered me by name when I showed up to pick up my packet. It's like they were happy to have me there. I like that. Happy running, Todd