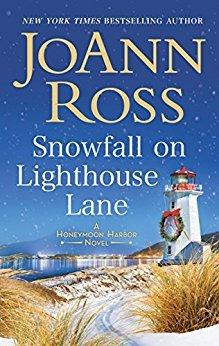 Snowfall on Lighthouse Lane by JoAnn Ross
Series: ,
Published by Hqn on October 30, 2018
Genres: Contemporary, Holidays, Literature & Fiction, Romance
Pages: 432
Format: ARC
Goodreads
Buy on Amazon



Lose yourself in the magic, charm and romance of Christmas in the Pacific Northwest as imagined in JoAnn Ross's heartwarming Honeymoon Harbor series.

Growing up on the wrong side of the tracks, Jolene Harper is forever indebted to the mother who encouraged her to fly—all the way to sunny LA and a world away from Honeymoon Harbor. Although Jolene vowed never to look back, returning home isn't even a question when her mom faces a cancer scare. Which means running into Aiden Mannion all over town, the first boy she ever loved—and lost—and whom she can barely look in the eye.

Aiden's black-sheep reputation may have diminished when he joined the marines, but everything he's endured since has left him haunted. Back in Honeymoon Harbor to heal, he's talked into the interim role of police chief, and the irony isn't lost on the locals, least of all Aiden. But seeing Jolene after all these years is the unexpected breath of fresh air he's been missing. He's never forgotten her through all his tours, but he's not sure anymore that he's the man she deserves.

Despite the secret they left between them all those years ago, snow is starting to fall on their picturesque little town, making anything seem possible…maybe even a second chance at first love.

This is the week that I'm sharing all the new Christmas books being released this year! Let's face it folks, Wal-Mart has started their holiday decorations, so maybe a few good Christmas stories will help get you in the mood! Today's post is about Snowfall on Lighthouse Lane by JoAnn Ross.  It is technically the second book in the Honeymoon Harbor series. The first story, Home to Honeymoon Harbor, was a prequel novella.  Next came Herons Landing, which was the first book in the series.  Next came Once Upon A Wedding, which was a novella containing the third story. So now we are on Snowfall on Lighthouse Lane which is officially book two. (Kind of complicated, but you can get clarity on it if you head over to the author's website.)
To be clear, I hadn't read anything previously in this series – novella, prequel, book or otherwise – so I can honestly say this book served as a stand alone.  I'll be a little more honest with you – I think if I had read at least book one, I believe the characters might had a little more depth based upon some of the reviews I've read on the story. Either way, I enjoyed this book and will pay attention so I can pick up any future stories in this series.
There's Aiden Mannion, an ex LA cop, who has had a pretty tough time lately and coming home has its own issues to deal with. Then there's Jolene Wells, who doesn't have a lot of great memories from Honeymoon Harbor, but her mom needs her so she has to come home. Aiden and Jolene have a history together – people don't really know about it and both of them have tried to forget it too.  Now, this second time around, will they be able to make things right? 
This is a small town romance book about people getting a second chance and how they deal with their past. I have to say I was very surprised that the author included a ghost in this story – seemed like it would have been a great story without the ghost but hey, it was a great story overall.
---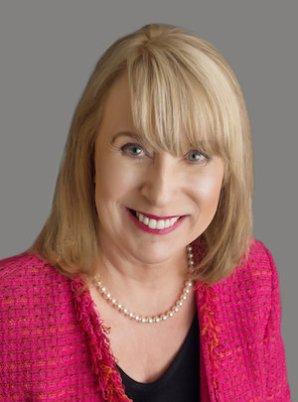 New York Times bestselling author JoAnn Ross has written over a hundred novels for a bunch of publishers. Two of her titles have been excerpted in Cosmo and her books have also been published by the Doubleday, Rhapsody, Literary Guild, and Mystery Guild book clubs. 
A member of the Romance Writers of America's Honor Roll of best-selling authors, she's won several awards, including Romantic Times's Career Achievement Awards in both category and contemporary single title. 
Currently writing a new Honeymoon Harbor series for HQN set on the Washington peninsula, that will launch in April, 2018, JoAnn lives with her husband (her high school sweetheart, who proposed at the sea wall where her Shelter Bay books are set), in the Pacific Northwest.
Connect with JoAnn Ross ~~
WEBSITE  //  FACEBOOK  //  TWITTER  //  INSTAGRAM
---
I received an advanced readers digital copy of this book from Little Bird Publicity through NetGalley in exchange for my honest review and unbiased opinion. Thanks NetGalley and Little Bird Publicity!

~ ~ ~ ~ ~ ~ ~ ~ ~ ~ ~ ~ ~ ~ ~ ~ ~ ~

It would be great if you would stay connected with me!! You can follow me on Twitter @DebiL1611, like me on Facebook at 2014 and Beyond, circle me on Google+, follow me on Tumblr, Instagram and Bloglovin', subscribe on YouTube, or connect with me on LinkedIn and Pinterest.

Please make sure to visit my homepage and subscribe to my blog for more great posts on running, fitness and lifestyle topics as well as food, product, music and book reviews, and more!