Sneak Peek:  Free Ballet Slippers Pattern
This past week I have finally had the time to start working on my next free pattern.  I decided to make a simple ballet slipper.  I used a cluster stitch to give the slippers texture and added warmth.  Here is a sneak peak of the slippers (they are still a work in progress).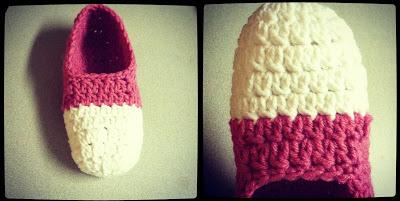 I am pretty happy with the way these slippers are turning out.  They are very comfortable, warm and don't slip off your feet!  I hope to have this pattern ready and posted by the end of the week.