Recently, while my mum and sister were down on holiday we decided to try the much talked about Smokin' Joe's burgers that we had been wanting to give a try. Being a weekend and a large group, we played it safe and opted to place the order telephonically and do a pick up instead.

I was excited, I had heard about these burgers and they were the type that were right up our alley.
Alas, the first experience was for me a complete downer. I had ordered the Royale With Cheese and although the establishment is a short hop to where we live, the burgers were quite cold. Also, for me in particular, my burger was lacking in sauce along with my patty being terribly under spiced. The burgers aren't very large and due to so many being placed in the bag, they were smashed and sad looking.
With a sigh I ate, I had expected so much and was quite sorely disappointed. Oh well, I enjoyed it as much as I could but felt cheated.
Not one to let a first experience put me off, I made up my mind to get to the establishment in order to have a proper sit down experience.
How glad am I that I did! A quirky store with decor that was just right, offering the perfect ambience and vibe, this time I knew the experience was going to be perfect. We were seated and given menus which at first glance made me think that they were drink coasters, but once opened revealed a menu of 5 burger options, milkshake options as well as caffeine options.
My daughter and I went with the Smokin' Joe burger and my youngest opted for the choc-chip cookie milkshake ( which she drank very little of as she wasn't well, but which suited me fine as it was absolutely delicious!)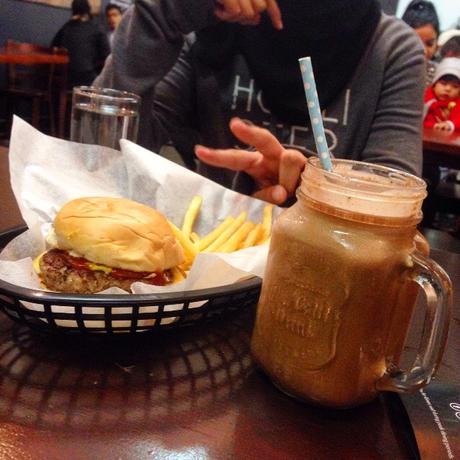 The burgers arrived and boy oh boy they looked good and tasted amazing. Well spiced, thick, juicy patty, with a delicious, perfect amount of sauce and a liberal amount of yummy yummy caramelised onions, served with their signature truffle and thyme flavoured chips- you have got to try those!
The milkshake was almost dessert like, thick, chocolatey and the perfect end to a perfect burger- with our only tiny gripe being that a thicker straw was needed, as the paper straw given wasn't adequate enough to get the cookie bits through. Since my smallie couldn't finish her shake we requested a takeaway for the leftovers and were very surprised and secretly very happy to be told that it not only would it be a pleasure to give us a takeaway cup but it would also be topped up.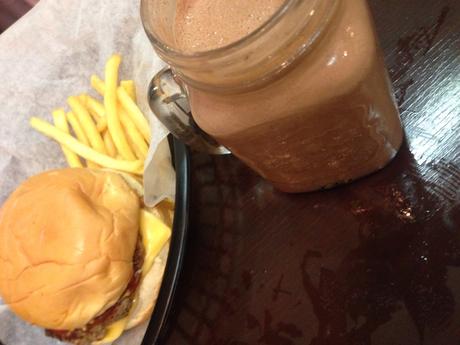 VERDICT: Burgers are a little on the small side for bigger eaters but was perfectly sized when paired with the shake, slightly pricey and the side of chips could be larger, but overall the excellent service, attention to detail, delicious food, amazing milkshake and perfect laid back vibe, will definitely have me coming back for more. I have happily found a new haunt and cannot wait to go back.
Smokin' Joe's

215 Musgrave Road, Berea, Durban
Tel: 031 201 2343