So i spent some time with my son shopping, and im going to show you what i got.
First stop was by PFI, If you are in the Springfield Missouri area, stop in or shop online as well.. My son needed to go there so i looked at the jewelry and ended up picking up this ring..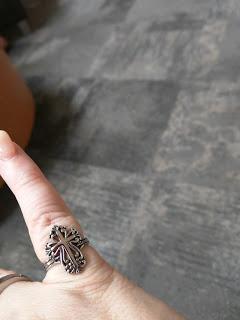 It is sterling  silver and I'm in love with this. It was only $20,
Next stop was at Ross's. I love this store.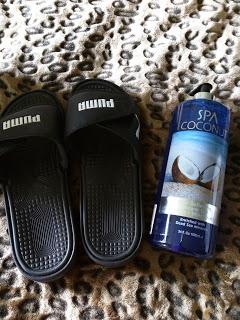 I put up these Puma's and they were only $14 and the Spa coconut body wash. It has dead sea minerals and you know i love products that have that in it. This was only $7  Head over to Ross's right now and pick these up.
 Next stop was the mall and to Sephora's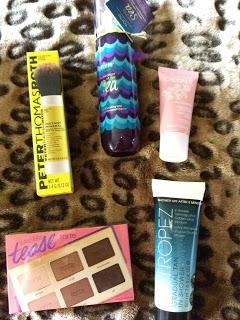 Top row--- Peter thomas roth instant mineral sunscreen. This is perfect for apply every couple of hours over your makeup. Tarte Rainforest of the sea marine boosting mist.. I love this and am going to start carrying the small one in my purse. For one of my $100 perks, i picked up the Calidalie moisturizer. Its good but i don't think that i will get the full size.
Bottom Row---Yes i did pick up the Tarte Tease palette and let me tell you that this took my breath away with i opened this. It is so beautiful. I can't wait to use this. And i also picked up the St Tropez in shower gradual tanner. I wanted to try this out after seeing that this is a Khloe Kardashian favorite, I was going to get the full size but seen this for only $10 so im going to try this out and if i like it, then i will get the full size.
Next stop at the mall, was the Kiehl's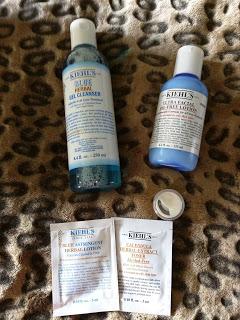 I wanted to try out the blue herbal gel cleanser after seeing this is a favorite of the Kardashian sisters, For top to bottom, Blue herbal gel cleanser, i do love this but a little goes a long way. Next is the Ultra facial oily free lotion. I have been using this and i do like this so far. This little jar is a sample that the lady gave me. It is the Acne Blemish Control Daily Skin Clearing Treatment. This stuff is amazing. When you apply this to blemish that is starting out by the next day , it is gone. Will be purchasing this. The bottom row is two different samples. One on the left is the Blue Astringent Herbal Lotion. I have not tried this yet but the lady did say that this is very strong so only a little bit. On the right is the Calendula herbal extract toner, and again i havent used this.
So this is my little haul. If you have tried any of these products, let me know your thoughts.