This Beef Stroganoff is full of flavor and easy enough to cook in your slow cooker. It will soon be a family favorite and your go to recipe.
If you do not own a slow cooker you should get one. They are so easy to use and there are lots of recipes you can make that are easy and flavorful. Ones like this Beef Stroganoff. I love those creamy sauce recipes, this one is no exception. No wonder slow cookers are so great. You can use a very cheap cut of meat and make it taste moist and delicious. Not to mention it is so easy to use. Most dishes make themselves. All you have to do is chop a few ingredients toss them in the pot set it and go about your day.
I add the cream cheese and sour cream in the end. I have added it in the beginning not thinking and it did not work well. The cream cheese will look curdled and it will separate. Cream cheese does not do well with a long cooking time. Well at least not with this recipe. I love to serve this with a salad. It is so easy you will be glad you made this, and so will your family.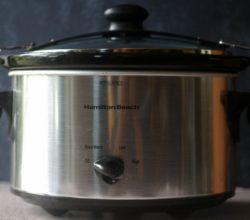 Slow Cooker Beef Stroganoff
Ingredients:
Directions:
Peace be with you,
Veronica