Nothing screams comfort food better than stuffed shells. These are loaded with cheese and spinach, your family will be begging for seconds.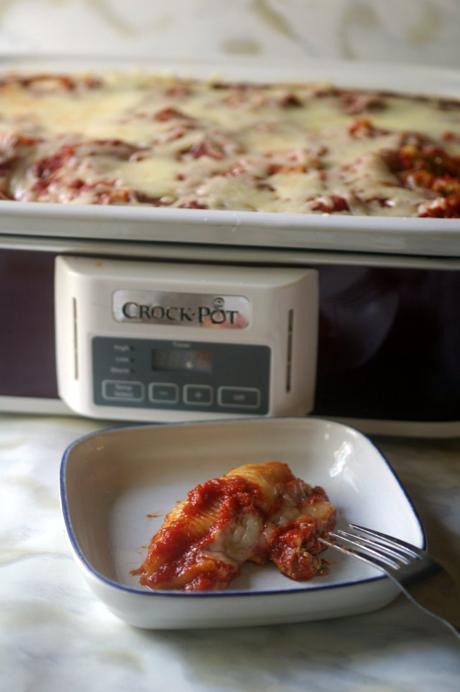 When was the last time you had stuffed shells?  A long time? Me too! I am not sure why either. I sure do like them, but for some reason I just haven't been making them. It is a shame too because they are so versatile and they can be made in a big batch and frozen. Not to mention you can stuff it with just about anything you can think of.
My recipe is meatless, but you certainly could add a pound or two of ground beef or Italian sausage.  I think that would be real tasty.
I did not cook my shells either. I wanted to see how it turned out without cooking the shells. they certainly were easier to stuff and that extra step shaved off about 20 extra minutes of the recipe.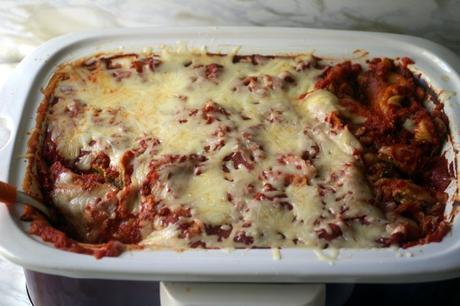 Print Recipe
Slow Cooker Stuffed Shells
Ingredients:
2 jars 24 ounce spaghetti sauce
15-20 jumbo shells uncooked
1 pkg ricotta cheese
1 package Italian blend cheese
1 egg
1 teaspoon italian seasoning
1 pkg frozen spinach thawed
1 pkg shredded mozzarella cheese
Directions:
In a slow cooker pour one jar of the spaghetti sauce on the bottom of the insert. In a medium bowl combine the ricotta, cheese blend, egg and seasoning. Place spinach in a towel and wring out as much moisture from it as you can. Place in bowl with cheeses. Mix well. Put mixture in a gallon size freezer bag. Cut a small corner of the bag. Pipe the cheese mixture into the shells. Place filled jumbo shells in a single layer into the slow cooker. Pour the other jar of tomato sauce over the shells ensuring the sauce covers all of them. (this keeps them moist so they will soften)
Cook on low for 3-4 hours.
Sprinkle shells with mozzarella cheese. You can place the insert under the broiler or wait 5 minutes with the lid back on the slow cooker to melt the cheese.
Serve hot.
Peace be with you,
Veronica