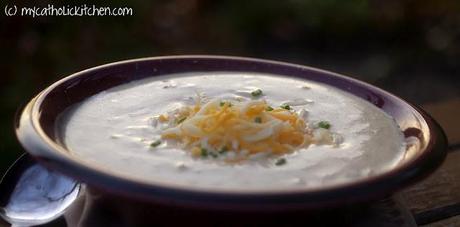 With so many relatives and friends that are vegetarians in my family, I am always on the lookout for ways to make my meat recipes into meatless.The original recipe for this soup called for bacon and chicken stock. With a few modifications it is now meatless. I removed the bacon and replaced the chicken stock with vegetable broth. If you have homemade broth that would be wonderful. but the low sodium vegetable broth you find in your local supermarket will work just fine.You could add the fake bacon sprinkles if you like. I think it tastes great without it.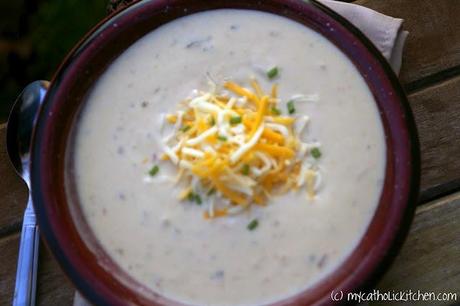 Slow Cooker Potato Soup6 large baking potatoes peeled cut into 1/2 inch cubes
1 large sweet onion
1 quart of vegetable broth homemade or canned
3 garlic cloves minced
1/4 cup butter
1 tablespoon salt
1/2 tablespoon pepper
1 cup half and half
1 cup shredded cheddar cheese
3 tablespoons chopped chives 
1 cup sour cream
extra cheese and chives for garnishing
DirectionsCombine potatoes, onions, broth, garlic, butter, salt and pepper in a slow cooker. Cook on high for 4 hours or low for 8 hours. Mash mixture until potatoes are coarsely chopped and soup becomes slightly thickened. Stir in cream, cheese and chives. cook another 30 minutes or until heated through. Top with sour cream, extra cheese and chives.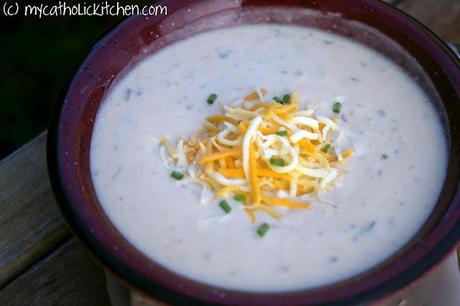 Peace be with you,Veronica