These Country Style Ribs cook up juicy and are fall of the bone tender, in this ridiculously easy slow cooker recipe.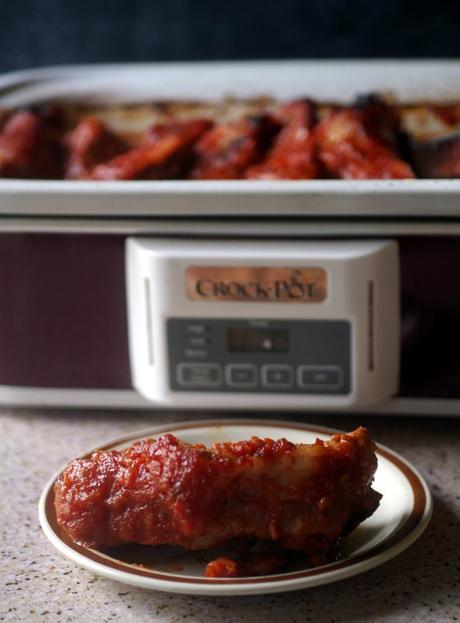 I love barbecue. Sometimes I do not have time to make it out on the grill. Sometimes it is to rainy or cold to even want to go anywhere near the grill.
That is why this recipe is so great!
You can make it in your slow cooker or with a few modifications in your oven. I suppose this sauce would be more like a Memphis sauce. Only in that it has tomatoes in it. Now dont freak out if you do not have San Marzano tomatoes. You can use any good quality canned tomatoes. I only used those because they were in my pantry.
I made the sauce the night before. It has bacon in it and you have to render it down. You run it through a food processor or blender and it will keep in your fridge for over a week. You can use it on all sorts of things not just ribs.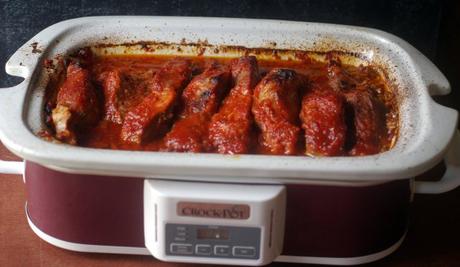 Print Recipe
Slow Cooker Country Style Ribs
Ingredients:
4 slices bacon chopped
1 tablespoon chipolte chili powder
4 cloves garlic minced
1 small onion chopped
1 can (28 oz) diced San Marzano tomatoes
1/2 cup white sugar
3 tablespoons dark molasses
1/2 cup apple cider vinegar
1/4 cup whole grain mustard
1 tablespoon Worcestershire sauce
1 tablespoon kosher salt
1/2 tablespoon black pepper
6-8 country-style ribs (about 4 lbs)
3 tablespoons canola oil
Directions:
Heat bacon in a cast iron skillet over medium heat. Cook stirring until the fat is rendered about 8 minutes. Add chili p0wder, garlic, and onion, cook stirring until soft about 10 minutes. Add tomatoes, sugar, molasses, vinegar, mustard, Worcestershire sauce, salt and pepper, bring to a boil. cook for 10 minutes. Remove from heat allow to cool slightly before adding to food processor. You can do this a day or two ahead if you like.
Season ribs with salt and pepper. Place in your slow cooker. Pour the sauce over the ribs. Cook on low for 8 hours.
Peace be with you,
Veronica