I recently purchased some sleek makeup I've wanted some for ages. It's such a great makeup range, affordable and really good quality. So you can imagine how happy i was when i went to the post office to collect them! 


(Poison Ivy)
I purchased a new nail varnish, just because i feel like i don't have much variety. I have loads of shades of pinks, reds and browns but thats about it. So i brought this gorgeous metallic bluey green colour! For £3.89 you can't complain as it is super fast at drying which is great for me always rushing around and just the one coat gives complete coverage. I am definitely going to purchase other colours. This is in shade Poison Ivy.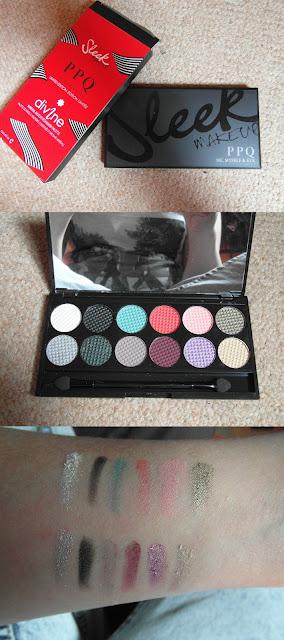 'Me, Myself & Eye'
(From left to right Barry White, Black Box, Salt'N'Peppermint, Simply Red, Pink Beret, Primal Green, Fade To Grey, Blue Monday, Supernova, Chris De Burgundy, Lilac Allen and Golden Silvers)
I sneakily brought 3 new eyeshadow palette as well. I brought the new 'Me, Myself & Eye' palette which has colours right on trend for spring coming up also with a contrast of dark colours to give an edgy look to the feminine silhouettes seen this spring/summer I really like this palette as it not only gives you colours for spring/summer but a day and night contrast. this is also an ideal size to pop in your bag. at £6.49 these are definitely a bargain.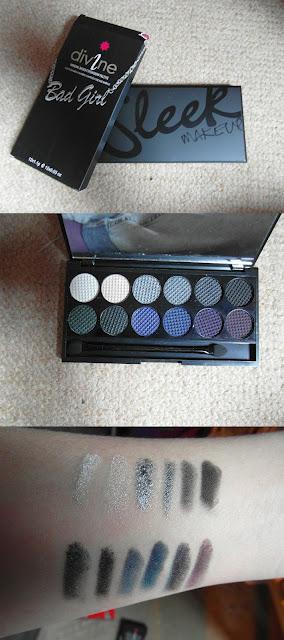 'Bad Girl'
(From left to right Innocence, Gullible, Blade, Gun Metal, Underground, Noir, Intoxicated, Envy, Obnoxious, Abyss, Twilight, Rebel)
Moving onto my favorite of the three pallets i brought 'Bad Girl' i am absolutely in love with this palette! the colours are perfect for me on a night out as i am in love with dark smokey eyes!. They are some pearlescent and matte shades which is also a bonus a definite night time eyeshadow pallet. again for £6.49 you are really finding a bargain! the formulation is really long-lasting so there in no need to reapply throughout the night or day.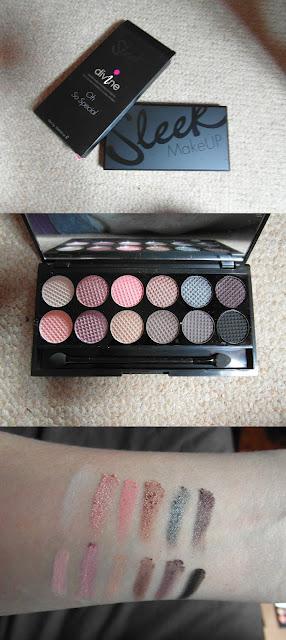 'Oh, So Special'
(From left to right Bow, Organza, Ribbon, Gift Basket, Glitz, Celebrate, Pamper, Gateau, The Mail, Boxed, Wrapped Up, Noir)
The next pallet is 'Oh So Special' this pallet is a must for every women. This is the sort of eyeshadow that suits everyone no matter what skin complexion you have. I have olive skin and green eyes so the purple and browns really make my eyes stand out. Another perfect pallet for everyone to use day and night. £6.49
Sleek makeup has really stood out to me and i will be purchasing from them again. The nail polishes are amazing and so cheap. The same goes for the palletes you can't complain at the price all the eyeshadows are so pigmented which you can tell from the swatched photographs and they are long lasting. If you go onto the website here you can find a pallet to suit you ranging from matte to pearlescent colours. Definitely a 10/10 from me!
Thanks for reading Leigh xo