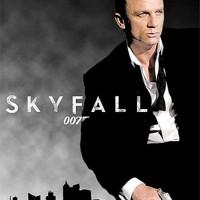 Movie: Skyfall
Director: Sam Mendes
Cast: Judi Dench, Daniel Craig, Javier Bardem, Ralph Fiennes, Naomie Harris and Berencie Marlohe
Rating: ***
The rules of the game have been changed since the debut of Daniel Craig as the new face of secret service agent, James Bond 007. With all due respect to the British spy icon, who continues to live on after five decades and 23 globetrotting adventures, James Bond is no longer a character you can associate with glitz, glamour and gizmos. Of course there are girls, who still continue to be part of his life, but hardly get to spend few extra minutes. What was supposed to be an extravagant golden jubilee year for Bond may have just turned into a film with murky setting, which may not be applauded universally. Bond is back, but not the way you would've expected.
Skyfall, which comes from the factory of Sam Menders, known to be a doctor of conniving thrillers such as 'American beauty' and 'Road to Perdition', had to have some bitterness in the plot, and it does to some extent.  
When a former MI6 operative Raoul Silva swears to see M, played by Judi Dench dead, James Bond must stop the former from the reaching the latter. While investigating an attack on MI6, Bond learns that the attack was planned and intended to kill M. Meanwhile, five NATO agents are killed after their identities are exposed. Bond must stop Silva before it's too late.
'Skyfall' starts off with the kind of adrenaline rush you would expect from Bond franchise ever since Daniel took over the reins. A stunning pre-titles action sequence, true to Daniel's action hero status, followed by a chartbuster song crooned by Adele, is just about everything you could wish for in a Bond movie.
Thanks to Sam, we get to see the emotional side of Bond, something we haven't quite experienced in the past. True to how Mendes described Bond's character at Skyfall cast announcement, it's a combination of lassitude, boredom, depression and difficulty with what he's chosen to do for a living. But, what keeps Bond always on his toes is his pathetic love for his country. Although, there's a side to him that wants to stretch back and guiltlessly enjoy early retirement, but his patriotic side wants to fight for the country.
Bond whizzes through exotic locales, from London, Shanghai to Istanbul in pulsating fashion. As a Bond aficionado, you'll enjoy plenty of witty one-liners, designer costumers, breathtaking cinematography and lots of action, especially one particular scene on the highest floor of a Shanghai building or atop a train. But, for those who found the last two installments in the franchise slick and engrossing, may find 'Skyfall' slow and less engaging.
Silva was more than a villain as rightly described by Bardem himself at the launch of the film. Having learnt what happened to him, you can't stop yourself from showering some sympathy on the character. However, with his megalomaniac intentions, all that he earns is Bond's and viewers wrath alike.
The glamour quotient Berenice Marlohe doesn't quite satisfy with her oomph. Judi and Ralph, shine in their respective roles, while the latter opens door to something extra. The inclusion of few characters is smart and breathes life into the franchise that we hope will return with a better Bond flick.