A while back I posted on social media a picture of a new pair of SKORA PHASE shoes I bought and I had lots of questions from readers and friends about my beautiful new shoes and whether I liked them, etc.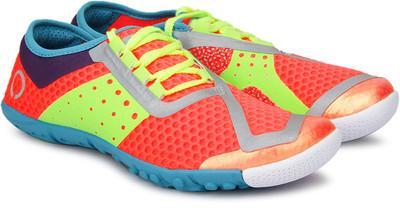 I wanted to do a review a while ago, but posting lately has been light given the craziness at work and summer, vacations, etc. so while I am home with a sick, napping Ashton, it was the perfect time to actually write my review. Also, I've been wearing these shoes now 3x a week for 3 months, so I feel extra confident in the review I am about to deliver because we are far past the honeymoon phase of a new shoe and they are still exceeding my expectations.
First, a little background on SKORA.  SKORA Running is a running shoe company based in Seattle and they have been around since 2012. They make minimalist zero drop running shoes known for their anatomical fit–a foot-like design with negative flare and a curved platform, that provides runners the opportunity to run "natural." SKORA calls it  "Run Real" –and if you are interested (it's pretty cool) you can read more about it here.
I happened across these shoes accidentally, but I am SO glad I did.  I was in the market for a great minimalist shoe that I could use while lifting since I was using an older pair of running shoes and just wasn't feeling the ground contact like I wanted to while squatting.  The SKORA PHASE shoes popped up in a marketing email to me and it was love at first sight.  I mean, these shoes are GORGEOUS. The colors are amazing and I started reading up on them.
"PHASE is constructed using the latest lamination techniques, with a minimal single-layer mesh upper and laminated reflective details. With an asymmetric lacing system and unique IBR outsole, PHASE provides maximum performance with minimum weight and interference. Zero-drop, 11mm stack height.PHASE is built on our revolutionary IBR (Injection Blown Rubber) platform. R02 pushes the boundaries of material technology. IBR offers better abrasion resistance, grip and compression-set than injected EVA with lower density and weight than rubber. This provides a runner with incredible ground feel and running comfort in an amazingly durable, flexible and lightweight complete package."
Some Key Features:
– 5.8 oz / 163 g
– REALFIT™ last
– Airmesh upper
– Laminated reflective overlays (no-sew)
– Asymmetrical lacing
– Anti-slip microfiber heelpad
– No-tongue design
– Reflective details
– IBR (Injected Blown Rubber) outsole
– Rubber toe bumper
– Zero-drop construction
– Stitch-down construction
– 11mm Forefoot/heel stack height
– 3mm removable Antimicrobial insole
When these shoes arrived, I ripped open the box and the online pictures didn't do these beauties justice, they are just so bright and GORGEOUS! I love bright colored shoes and these are the best looking workout shoes I have ever owned (those silver stripes are reflective)! I immediately put them on and modeled them for Ashton and Robyn.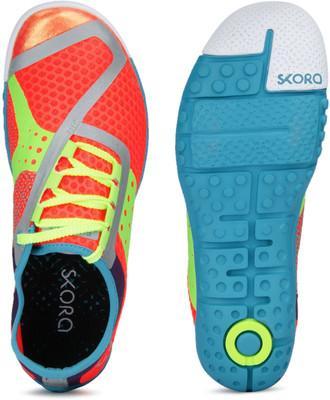 First thing first, these shoes are LIGHT–the lightest shoes I have probably ever held with the exception of flip flops.  They are flexible and when they are on, you really feel that your feet are connecting with the ground.  I love the laces and the gripping on the heel is awesome, especially when I am squatting on the gym floor. I really felt like I was barefoot while wearing them.
The one negative to my shoes (and this is totally my own fault) is that when I ordered them, I ordered them in my running shoe size and they are definitely too big for me, but I just couldn't bear to part with them once they arrived so I sucked it up and tied them a bit tighter–live and learn right?  These shoes have an extra wide toe box which I really like as well as an airmesh upper that let's the shoes breathe, meaning no sweaty, smelling shoes post workout. You can also remove the insole to gain more volume by approx. ½ size–something I didn't need, but would be helpful if you needed the extra space.
For me, this shoe was exactly what I was looking for in a lifting shoe and I have loved them.  The let me get deep into my squats while feeling the ground and I have found they have helped my form a ton because of this. They are super comfortable and mimic being barefoot.  They are designed perfectly for a natural feel and while I don't use them for running, I can bet they are pretty awesome for all those minimalist runners out there that want something super lightweight–maybe even a racing flat!  I think that I may try a bit of running in them when I order my next pair and see how I do.
—————————————————————
Question of the day
Anyone else out there wear SKORA or other minimalist shoes?  Thoughts? Questions?