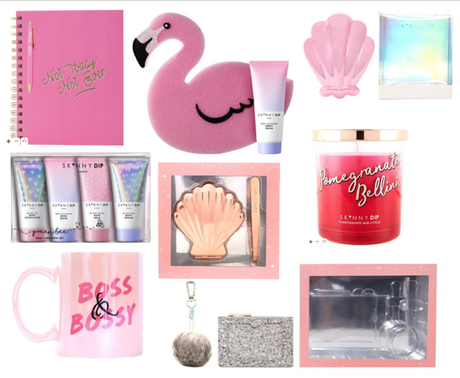 I love that Skinnydip and Missguided have bought out Christmas collections this year at Boots. I'm pretty sure that Missguided had a collection this year but it seems bigger and better than ever! The packaging from both brands looks stunning this year and I can't wait to head into store and see it all for myself. 
Missguided Collection
- Billion Dollar Bubbles £10: Comes with a luxury bath soak and two bath fizzers. 
- Da Bomb Set £6: A trio of bath fizzers. 
- Girls Just Wanna Have Fund$ £16: Comes with an eyeshadow quad, lip liner and two matte lip colours as well as a compact mirror inside the beauty bag. 
- Glow Bar £8.50: A highlighting duo. 
- Goal Digger Set £14: A Eyeshadow, bronzer and highlight palette with a matte lip color included.- High Roller Cube £12.50: Comes with a body wash, body buff, body lotion, body spritz and bath soak. 

- Quad Goals £10: Includes four gorgeous matte lip colours. - Semi Naked Duo £6: Comes with a nude nail polish and a lip balm. - Throw Some Shade £14: The same as the Goal Digger Set but with different shades. - Totally Lit Contour Kit £8.50: Includes shades to strobe and contour and add blush to the cheeks. - Casino Queen £40: Includes nine products from matte lip colours to a face mask. 

Skinnydip London Collection 

- Glowing Out Kit £18: Comes with a liquid illuminator and a highlight and illuminating palette. 

- In the Buff £14: Includes a sugar scrub and a shimmering body mist. - Matte Lip Paints £12.50: Includes three matte lip paints. - There She Glows £12.50: An eyeshadow palette including 12 matte and metallic shades. - Soak It Up! £8.50: A heavenly scented bath soak. 

- Pomegranate Bellini Candle £18: Scented Candle

- Cosmetic Brushes & Makeup Bag Set £22: Comes with three makeup brushes and a cute bag. 

- Shell Hair Brush £12.50: To brush your hair like a princess

- Tequilla Sunrise Candle £18: Scented candle.

- Tweezer & Mirror Duo £10: To keep those brows in check and to touch up your makeup on the go! 

- Let's Get Tropical Set £10: Comes with a body wash and flamingo shapes sponge. 

- Notebook & Pen £14: To keep all your notes in one place.

- Bossy Teen Mug £8.50: For all your hot drinks! 

- Preen Bee Mini Quad £10: Includes four mini body products. 

- Silver Glitter Makeup Bag £12.50: For keeping all of your essentials

- Coin Purse & Pom Pom Gift £16: Cute handbag must-haves.

- The Ultimate Set £20: 

___________


What are your favourites from these collections?