Are you a road warrior?
A pilot, a flight attendant a frequent flyer of any occupation?  Air travel and hotel stays can wreak havoc on your gorgeous skin.  Constant assault from controlled air that is drying, and challenging diet choices on the road can make your skin revolt in many interesting ways.  To combat the artificial environments you are regularly subjected to, I recommend putting together a dedicated, travel-sized skin care kit that "lives" in your suitcase.  So long as you never take the kit out of your travel bag, you will always have the ability to take care of your skin on the road.
Recently, I wrote a post on the importance of carrying around an emergency skin care kit, and what should go in it.  Today's post is designed to save you time by providing you travel-sized kit options (TSA compliant) that have already been put together for you.  Organized by skin type/condition.
Sensitive-Aging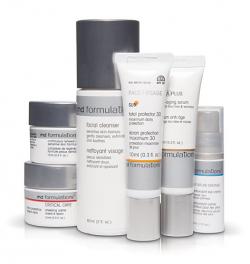 md formulations Sensitive Anti-Wrinkle Solution Kit
This kit is incredibly effective and a super value for what you get–the Continuous Renewal Complex is stunning!   The kit ideal for those with sensitive, aging skin who want smooth, even, hydrated, and protected skin. This kit softens, smooths, brightens, and firms the skin. The set includes Facial Cleanser Skin Formula (2 fl. oz.), Continuous Renewal Complex (0.5 fl. oz.), Vit-A-Plus Anti-Aging Lotion (0.3 fl. oz.), Critical Care Shielding Creme (0.5 fl. oz.), Moisture Defense Antioxidant Eye Creme (0.17 fl. oz.), and Total Protector 30 (0.3 fl. oz.).
Sensitive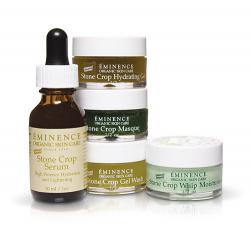 Eminence Stone Crop Starter Kit
This organic kit is a treat for sensitive skin, and it smalls delicious! Be sure to dispense the products with a cotton swab–not your fingers!  Ideal for those with hyperpigmented, dry, and sensitive skin to even out pigmentation, moisturize, firm, and calm the skin. The set includes Stone Crop Gel Wash (0.5 fl. oz.), Stone Crop Gel Hydrator (0.5 fl. oz.), Stone Crop Masque (0.5 fl. oz.), Stone Crop Whip Moisturizer (0.5 fl. oz.), and a full-size Stone Crop Serum (1 fl. oz.).
Oily-Breakout Prone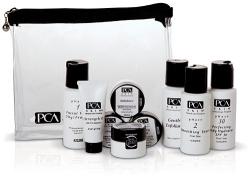 PCA Skin Oily/Problem System – Trial Size
This travel-sized kit is designed to reduce breakouts while improving the texture and appearance of oily/problem skin. The lasts approximately three weeks. Contains: pHaze 1 Facial Wash Oily/Problem Skin (1 fl. oz.) pHaze 2 Smoothing Toner (1 fl. oz.) CStrength 15 with 5 Vitamin E (0.25 fl. oz.) pHaze 7 Protecting Hydrator SPF 25 (1 fl. oz.) Gentle Exfoliant (1 fl. oz.) ReBalance (0.25 fl. oz.) Clearskin (0.25 fl. oz.) Purifying Mask (0.25 fl. oz.) Perfecting Body Hydrator SPF 30 (0.25 fl. oz.)
Normal/Combination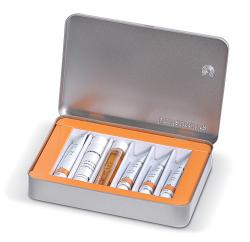 Dr.Hauschka Daily Face Care Kit – Normal
I love Dr. Hauschka products–I just feel "good" using them.  If you have norma, combo, or sensitive skin, this kit does a great job of gently cleansing, repairing, and hydrating while on the road.  The set includes travel sizes of Cleansing Cream (0.34 fl. oz.), Cleansing Milk (0.34 fl. oz.), Facial Toner (0.34 fl. oz.), Moisturizing Day Cream (0.17 fl. oz.), Rose Day Cream (0.17 fl. oz.), and Quince Day Cream (0.17 fl. oz.).
Dehydrated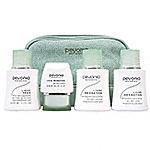 Pevonia Dry Skin Travel Kit 
Pevonia is a worldclass skin care company, and this kit is compact and lucious! Pevonia's Dry Skin kit provides the essential tools to keep dry and dehydrated skin smooth and comfortable. Whether you're on the road or in the comfort of your own home, this regimen revitalizes dry skin, leaving the complexion glowing with hydration and comfortable.  This kit it includesDry Skin Cleanser 50 ml, Dry Skin Lotion 50 ml, Rejuvenating Dry Skin Cream 20 ml
Aging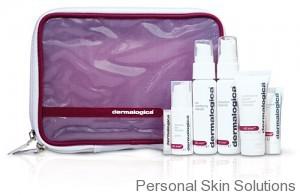 Dermalogica Age Smart Skin Kit
I can't even pretend to be biased about this travel-sized kit–it is the one complete kit that is my go to when I have to hit the road. Ideal for those with aging skin who want to firm, smooth and have a younger-looking appearance.  The Dermalogica Age Smart Skin Kit contains a full month's regimen you can use every day for firmer, smoother, healthier skin. Use morning and night.  The kit includes: Skin Resurfacing Cleanser (1 oz), MultiVitamin Power Recovery Masque (0.5 oz),  Antioxidant HydraMist (1 oz),  MAP-15 Regenerator® (0.02 oz),  Dynamic Skin Recovery SPF30 (0.34 oz),  Renewal Lip Complex (sample) Product as shipped may not come with bag.
What about you?
Do you have a dedicated skin care travel kit?  What do you take with you? What can't you live without?