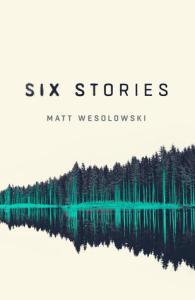 What's it all about?:
1997. Scarclaw Fell. The body of teenager Tom Jeffries is found at an Outward Bound center. Verdict? Misadventure. But not everyone is convinced. And the truth of what happened in the beautiful but eerie fell is locked in the memories of the tight-knit group of friends who embarked on that fateful trip, and the flimsy testimony of those living nearby. 2017. Enter elusive investigative journalist Scott King, whose podcast examinations of complicated cases have rivaled the success of Serial, with his concealed identity making him a cult internet figure. In a series of six interviews, King attempts to work out how the dynamics of a group of idle teenagers conspired with the sinister legends surrounding the fell to result in Jeffries' mysterious death. As every interview unveils a new revelation, you'll be forced to work out for yourself how Tom Jeffries died, and who is telling the truth.
What did I think?:
I have a confession to make. This book has been sitting on my shelves for quite a long time after I read rave reviews about it from my fellow bloggers and bought it in a charity shop near to where I work last year. Then it sat on my shelves looking quite lonely until the lovely Anne Cater and Karen Sullivan at Orenda Books invited me to be part of the blog tour for Matt's second book in the Six Stories series, Hydra (coming your way on Tuesday!) I knew that I simply had to read this novel as soon as possible. Well, oh my goodness why on earth did I wait so long? When I first heard about this book, structured like a true crime podcast, I have to admit I was slightly cynical, I didn't quite understand how it was all going to work. Well, it was quite simple really. We have the rambling thoughts of our interviewee combined with interjections from the podcast host to confirm certain points that are said, explaining things further or giving us extra, juicy tid-bits of information about the case in question.
Throughout the process of reading Six Stories, I felt like I was reading the transcript of a real-life and very thrilling crime podcast. The name of the novel comes from the fact that our host, Scott King hears the stories of six different people connected with the crime he is discussing. Our case follows the mysterious death of a young boy, Tom Jeffries at Scarclaw Fell, an area of natural beauty, a decade earlier in 1997. Tom was with a group of teenage friends at the time yet died all on his own in the early hours of the morning with his friends allegedly not seeing or hearing a thing. In fact, his body was not even discovered until much later by a separate group of friends out in the woods one night as they are brought gruesome discoveries by way of their dogs' mouths.
Scott King makes no bones about the fact that he is not a police officer, he is merely an anonymous interloper attempting to have a discussion about a mystery that has more than a few holes in it. By speaking to the people involved with Tom Jeffries, including the teenagers who were with him on that fateful night, he hopes to get some answers behind his death. Well, he certainly does. Six Stories took me a while to get used to the narrative style but by about forty pages in I was fully invested and completely enamoured with the author's voice. I didn't mind at all that we were led quite slowly and methodically towards the perpetrator and by the fifth chapter, you could kind of guess who it was, but the beauty of this story is that there are so many more surprises and pieces of the puzzle to put into place than I ever would have expected and I was completely taken aback by what was revealed.
I also adored the eerie nature of the urban legends, for example the Beast of Belkeld and Nanna Wrack added an extra, delicious frisson to the proceedings and definitely made me re-analyse every little creak and bang within my own house whilst I was reading. This is such a unique and fascinating novel that I'm absolutely delighted I've finally read, I just want to urge everyone else to give it a try. Weighing in at just over 200 pages, it's a short novel that packs an almighty punch and the author's talent and style is simply undeniable and one of a kind.
Would I recommend it?:
But of course!
Star rating (out of 5):

Six Stories by Matt Wesolowski is the eighth book in my quest to conquer Mount Everest in the Mount TBR Challenge 2018!
Advertisements
&b; &b;