Last year I made a Blog For Mental Health pledge. Sadly, there is no pledge in 2016 and the Blog for Mental Health site is no longer being curated, though it is currently still accessible. However, this was a wonderful project (and it ran for several years) and I'm truly glad it got me blogging about this subject, albeit less regularly than I'd like!
I called this 'Forward', though I could very well have called this A Letter to Depression. I cannot, however much I might like to be, be bitter about my experiences with depression because ultimately I know they have made me a better and stronger person. I can, however, be defiant.
Forever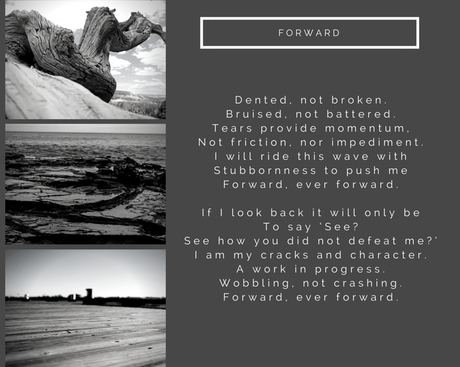 Dented, not broken.
Bruised, not battered.
Tears provide momentum,
Not friction, nor impediment.
I will ride this wave with
Stubbornness to push me
Forward, ever forward.

If I look back it will only be
To say 'See?
See how you did not defeat me?'
I am my cracks and character.
A work in progress.
Wobbling, not crashing.
Forward, ever forward.