I haven't flown a full service carrier internationally for obvious reasons. As with other budget travelers, whoever could get me to my destination for the cheapest cost gets my business. But getting to fly Singapore Airlines is a different experience altogether that gave me another perspective of flying. Let me describe what it's like to fly with them. Read more…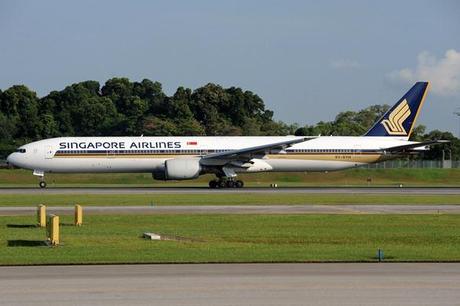 CHECK-IN
Singapore Airlines airport check-in service for their Manila and Singapore stations was efficient and easy, though lines can take long. It's thus smart to utilize their online check-in facility here. The airline, by the way, allowed me a generous 20kg checked baggage.
SINGAPORE GIRL: INFLIGHT SERVICE
The warm and gracious service of Singapore Airlines is epitomized by the Singapore Girl—whose sarong kebaya made of batik fabric is designed by Parisian couturier Pierre Balmain. True enough, their service was topnotch, and I had no complaints. They acted on my requests well and with a smile.
KRISWORLD: INFLIGHT ENTERTAINMENT
The MNL-SIN route is more than three hours long. Both my flights were well into the morning and afternoon, so I didn't nap that much. Good thing, Singapore Airlines has an inflight entertainment system called KrisWorld. It has a monthly selection of recent films, TV shows, song collections, and video games.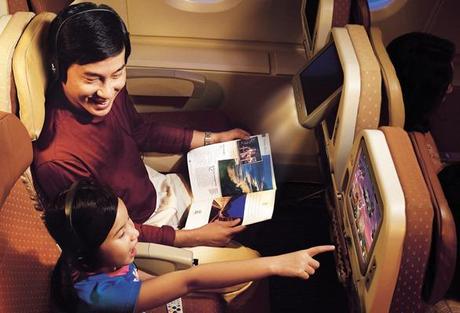 Those not into audiovisual entertainment can select a number of reading materials, such as their inflight magazine, Silver Kris, which has engaging destination features.
THE AIRCRAFT AND COMFORT IN THE AIR
For their MNL-SIN flights, Singapore Airlines utilizes a Boeing 777. Even for their economy class, the seat has a comfortable pitch, ample legroom with a footrest, and a good recline for sleeping. They automatically provide pillows too, so I was really able to nap comfortably.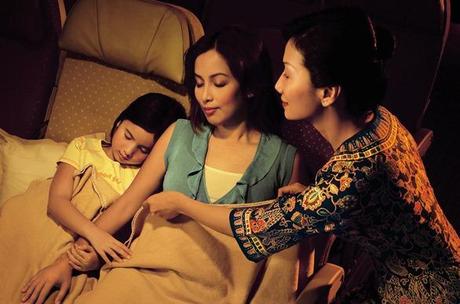 INFLIGHT MEALS
My MNL-SIN flight was in the morning, so breakfast was served. I had fruit appetizers; spinach omelet with bacon, tomato coulis, and potatoes; breakfast rolls; and tea. My SIN-MNL flight was in the late afternoon, so for dinner I had chicken with marinated Chinese seafood salad; chicken with herb cream sauce, seasonal vegetables, and potatoes; roll and butter; ice cream; diet soda; and tea.
Both meals were tasty in my opinion and were of good restaurant quality.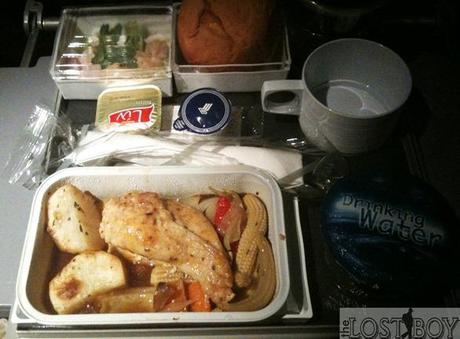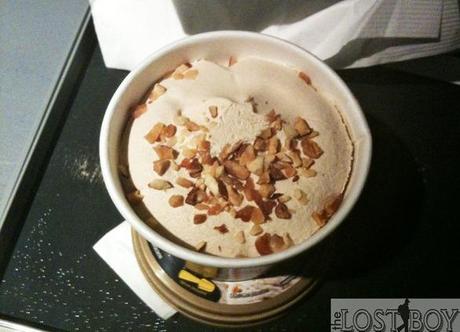 Passengers are made to select between an Asian and Western meal. I was told that their menu is changed every two to three months.
ARRIVAL AND BAGGAGE CLAIM
My arrival in Singapore and Manila were both in time. Singapore Airlines utilizes Changi International Airport Terminal 2 for their regional flights, so my arrival and departure were nothing short of great. Baggage claim was prompt and hassle-free on both flights.
THE EXPERIENCE
The lasting impression of Singapore Airlines to me is how the airline and its crew pay attention to the littlest of details, like the free use headsets and how they gave us hot towels as we were all boarded. As I've said, I haven't flown with a full service carrier internationally, so I was pleased to be receiving such attentive service.
Service, comfort, food, and entertainment are the major selling points of Singapore Airlines. No wonder it is lauded as a "5-Star Airline" by Skytrax, as flying with them is an travel experience already. I wish to fly with them again!
Singapore Airlines operates services in over 60 cities from more than 30 countries around the globe. Book your flight with them today at
http://www.singaporeair.com/
.
Thanks Singapore Airlines for providing my air transport during my coverage of Grand Prix Season Singapore 2011 on September 23-25, 2011. Special thanks to Ms. Camille Rose Pacis!