Okay, now to start… the very first product I post about must be my favorite, can't live without beauty product – Dr. Bronner's Magic Soaps. I know, not very glamorous, but it is the single product that has changed my life. Castile soap was originally named for an all-vegetable based soap that was made in the Castile region of Spain from local olive oil, it now refers to any vegetable oil-based soap, versus animal fat-based soap.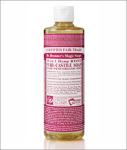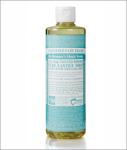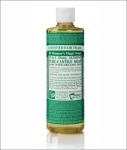 Why are they so amazing? Dr. Bronner's is completely biodegradable, they are made with Certified Fair Trade and Organic Oils, and they amazingly use 100% (wowza!) Post-Consumer Recycled bottles and labels. Their magic soaps can be used for so many things, it has become a kind of a competition for people to come up with more and more uses for them, but I personally use the liquid as hand soap, face wash, hand-washing laundry delicates, and the bar soap in the shower. Rose, Almond and Baby Mild are my favs! Castile soap is so effective as a hand/face wash because it is made of oils – and oils help to remove excess oil on your skin without stripping it of the necessary oils that your skin needs for protection and moisture. If you use a super drying/harsh cleanser it strips your skin of natural oils and then your oil glands go into overtime actually producing even MORE oil! Large mass companies know this and rely on this so that you will keep buying all their products because you are ultimately giving your skin acne/dryness/imbalance by using these products, and you will have to keep trying to fix all your new skin problems with their other chemical laden products. Dr. Bronner's keeps your skin naturally balanced and clean

nothing harsh or scary in these bottles of joy!