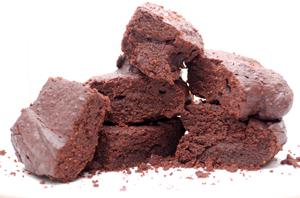 Brownies are generally quite easy to recreate without any flour or sugar. There are hundreds of low-carb brownie recipes out there, and here's my recipe for
sugar-free, gluten-free brownies
.
My inspiration for these was Pret-A-Manger brownies, which I used to love back in the day before going low-carb. If you never tried them, they are very dense, fudgy and moist. I use a lot of chocolate and cocoa powder in this recipe, so the taste is very rich.
Brownies ingredients:
150g (5oz) 100% unsweetened solid dark chocolate
I normally use Willie's Cacao. In the US, Ghirardelli do unsweetened chocolate bars.
150g (5oz) unsalted butter
90g (3oz) Truvia or another granular sugar substitute
90g (3oz) almond flour
30g (1oz) unsweetened cocoa powder
4 large eggs
½ tsp baking powder
pinch salt
Making brownies:
Preheat the oven to 190C/375F/Gas Mark 5.
Chop up chocolate and butter into chunks and place them into a heatproof bowl.
Melt the chocolate using the water bath method – put the bowl to sit on top of a larger pan of simmering water, so that part of the bowl is inside the pan and just above the water. (This is called Bain-Marie, or "water bath" – watch this 50-second video if you are not sure how to do it).
Wait until the chocolate is melted, stirring occasionally so that it is thoroughly mixed with butter.
Remove from heat and cool.
Beat the eggs and Truvia together for about 2-3 minutes.
Gradually add your egg mixture to the chocolate mixture and stir well.
Mix together almond flour, cocoa powder, baking powder and salt.
Add the mixed dry ingredients into the egg/chocolate mixture and blend well
Pour mixture into a greased baking tray.
Bake for 15-20 minutes and check. The top of the brownies should be firm but the inside should stay moist, so take care not to over-bake them.
Nutritional information

For the total amounts listed above: 2346 calories, 50g net carbs, 250g fat, 73g protein.
Per 1 brownie (assuming 20 brownies are made from the total amount above): 

117

calories, 2.5g net carbs, 13g fat, 4g protein.

More low-carb, gluten-free recipes
Check out my other low-carb chocolate recipes on this website