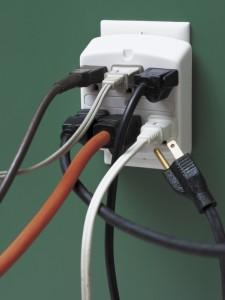 CC: Image Source
Simple Home Solutions: Too Few Power Outlets
In today's hunt for property, looking at a new apartments or houses consists of wandering in circles around the rooms to inspect how many outlets are going be available to power up all your electronics that everyone has become so reliant on.  But what if you just couldn't resist that older style home that is so unprepared for our new world of technological needs? Or what if you couldn't say no because it was the only suitable option? Are you going to let a lack of power outlets ruin your dream of a functional home?  Stuck with it for what feels like eternity, one tiny plug hidden deep behind your bed or that awkward spot 20 feet away from your couch, outlet usage could not be a bigger deal when it comes to small problems. But alas here are a few tips to help you get around this conundrum and become savvier in the ways of wall energy usage.
If You Own It, Install It!
Now this may be the most obvious choice but installing new outlets would definitely do the trick and isn't as difficult as one may think. The amount of time it takes to put in new outlets is much less than the time you spend wasting on your attempts to adapt to the lack of them. With a few supplies such as; tools, wiring, multimeter, receptacle tester, etc.  and possibly a handy man (unless you find the challenge of concurring DIY tasks thrilling) your room will be juiced with power in no time. Calling up an electrician to do the job is less time consuming than your own work and not very costly. You can even connect the wiring to another electrical outlet circuit to risk the inconvenience of installing a new circuit completely for that individual plug; just make sure to check with the National Electrical Code (NEC) to follow installation regulations.
To Infinity and Beyond
Extension cords can temporarily relieve you of your struggles as the length options range all the way 25 to 150 feet at most hardware stores. Use a nice rug or routing behind furniture to keep the cord out of the way of clumsy feet and pets. Make sure that you use the same safety guidelines for the extension cords as any other plug: always fully connected, check for damages/overheating, and if necessary attach a surge protector. A thicker wire is optimal as it prevents the danger of fires. Home Depot even provides a guide on choosing the suitable type of extension cord for your situation. Couldn't be any easier!
Be Hip and Go Solar!
Energy alternatives are the new cool as they are renewable, recharging, and, the best part, require no outlets! Its environmentally friendly, powered by lithium batteries, poses no hazards to you, and you rarely find a room without a window. Attraction to this use of energy is based off of how cheap it is once the product is purchased and its endless supply for the taking. The most common solar powered charger currently is for cell phones and XDesign has a few different products including the Solar Suntree, Tab Solar Charger Stand and Port Solar Charger that sticks directly to any window on the go. This may not eliminate all of your outlet needs but certainly cuts down on some of the everyday items.
Add On to What You Know
Adapters with multiple plugs can fit into any outlet and now recently there has been an AC adapter tap on the market, plugging in extra electronics to your laptop charger kills two birds with one stone. You can remove these plugs at any point in time and use them on trips for example in the airport or hotels when necessary if you purchase one of the right compact size. Just remember if traveling as far as out of the country, check the voltage or your gadget could be history! If used in a home or office to avoid the mess of many wires take advantage of cable clips and organizers to keep cords in line.
As we constantly seek to plug in more and more products the need for outlets isn't being met quite as fast but is on a developing streak. Looking towards places within the Asian region and other technology forward nations we see a larger amount of products becoming available on the worldwide market that will reroute the need for installation of outlets.