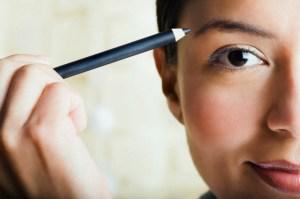 The eyebrows is that essential part of the face that frames it perfectly; which is why it is a must for individuals, specifically women, to integrate its shape to the overall look of the countenance. The latest beauty trends offer essential information, focusing on effective eyebrow makeup tutorial and tips that perfectly shape a woman's pair of eyebrows.
The following simple tutorial and tips will help any woman in putting the right makeup to her eyebrows, in order to shape them in a way that they enhance the entire face. If an eyebrow makeup is properly executed, this makes one's facial features more defined. Consequently, the individual's face will look striking and beautiful overall.
The following are simple tutorial and tips that any lady can follow to obtain a truly effective eyebrow makeup:
Eyebrow Filling
1. First Step is eyebrow filling, which is done at the start of eyebrow makeup. One must brush her eyebrows in a downward fashion using a dry type of mascara wand.
2. Next, the arch must be accentuated using a simply eyebrow pencil. Accents are achieved by sketching a line at the eyebrow's upper edges. Then, she must comb both eyebrows using upward and outward strokes.
3. For over-tweezed eyebrows, one has to use her eyebrow shaper brush in order to comb the hair to the growth's direction. Afterwards, any formed patches must be dusted, especially if the brows still have visible powder. Voila! One now has a perfectly made-up pair of eyebrows.
Tips on Obtaining Perfect Eyebrows
1. One must utilize eyebrow shapers in order to brush the eyebrows in an upward possible.
2. While excessive hairs that grow on top of the arch must be trimmed, don't overdo it. Otherwise, the eyebrows will have visible bald spots that can be unattractive.
3. If there are spots with less hair, fill them with a brow pencil. One must use quick strokes into these spots to fill them up. In case of thin eyebrows, brow powders must be used for better definition. This makes the eyebrows have a natural, thick look.
Indeed, women only have to follow these tutorial and tips, and they are assured of having the most attractive and beautiful eyebrows. Like the latest beauty trends advice, women must be particular with bald spots but never overdo, in order to achieve the perfect eyebrow makeup ever.
Image Source: CorbisImages