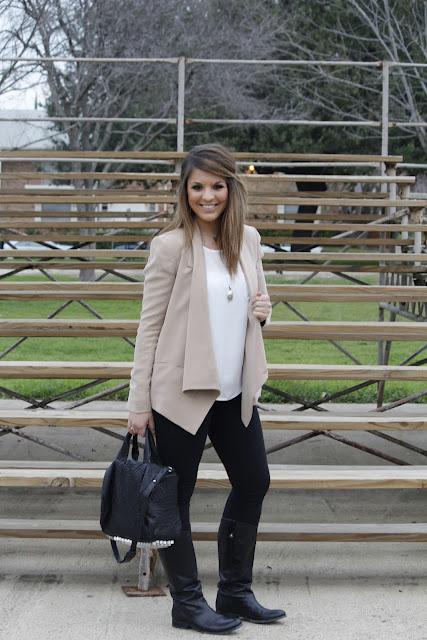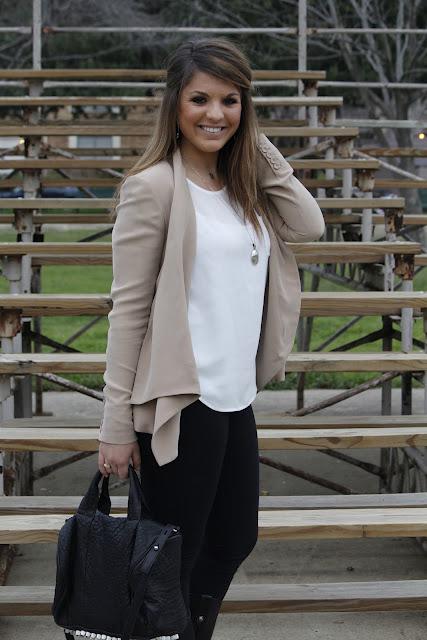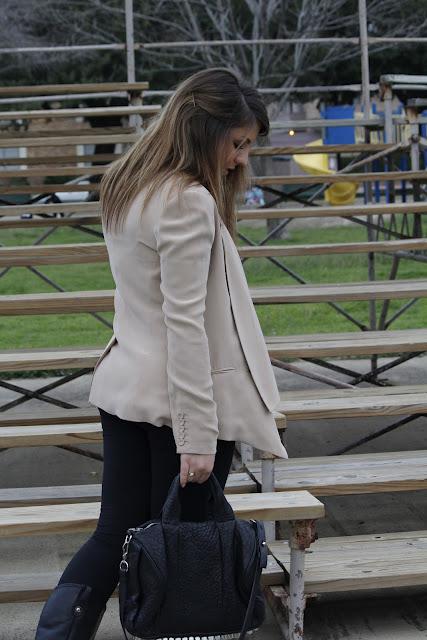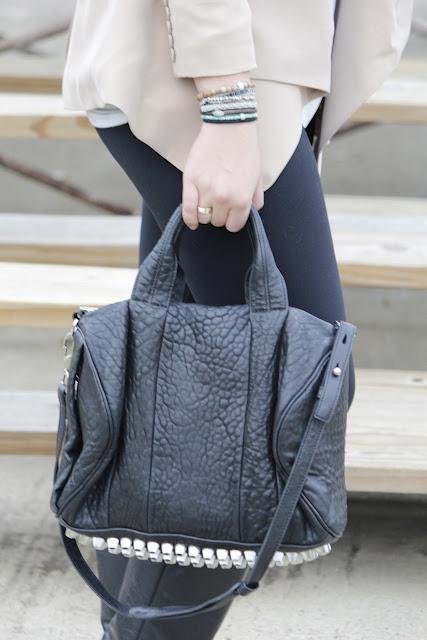 Haute Hippie Draped Peach Silk BlazerJoie Porcelain Silk Blouse Splendid Modal Black LeggingsAlexander Wang Black Leather Studded Rocco Bag Tai Wood BraceletsBlack Leather Frye Riding Boots 
Sorry it's been so long since my last post! Life has been so crazy! I've been balancing school and a life outside of school, so my wardrobe has had to stay flexible. I want to be professional, but stylish. Casual, but not sloppy. One of my favorite wardrobe staples right now are my leggings. I mean really, they're perfect for any outfit! Dress them up, dress them down. Better yet, they're comfortable, which we all know is a HUGE plus. They're flattering on any body type, as long as you pair it with the appropriate top. Now the top part is the key. Leggings need to be worn with something that falls about "mid-pocket length", or in this case, where the pockets on your jeans would normally hit. One of my favorite brands, Joie, makes incredible silk shirts that are perfect for day and night. I love this porcelain colored blouse because it's cute and casual, but also professional and modest. My blazer is made of peach colored silk which I absolutely love! It's so different, just like me. I like to think that I'm rebellious at times, but in all honesty, my risks are always calculated. I think this blazer describes me perfectly. The buttons are understated, as they're covered with silk, but I like that it's not too flashy. My bag is by Alexander Wang and I am absolutely in LOVE with it! Pebbled leather and studs? I mean truly, how could I say no!? My bracelets show my hippie side, or at least I like to think that. They're wooden with rhinestone accents- a little sparkle, but nothing too crazy. Last but most certainly not least, my trusty Frye boots. I do not know what I would do without my boots. I think I wear boots 4 times a week, at least! Like I've said before, every woman should have a great pair of boots in her closet. They're a necessity for sure. 
What is your go-to outfit these days?