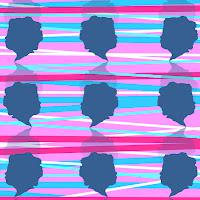 It's no secret that today's the day we announce the winners of the 4 personalised
Silhouette printpaper packages
.  Each package contains 9 different designs, both traditional and contemporary, in the colour-way of your choice.
Mimi helped me select 2 winners from the facebook and blog followers, and told me why she liked them (based on their photos or names);
The winners are:
Blog follower 1 - Ashley (because "I like her name and the green grass looks good.")
Blog follower 2 - SugarMumma (because "I really like sugar!")
Facebook follower 1 - Maryel R (because the 3 of you "look so happy.")
Facebook follower 1 - Amy W (because Mimi has a cousin called Amy!)
Congratulations to all of you!  I'll be sending emails to you if I can, otherwise, you know who you are - so write to me at linda(at)partycraftsecrets.com, and I'll confirm who you are so we can start making a set of printpapers for you.  
Remember you don't need children to make silhouettes; you, your pets, your partner; anyone can be immortalised and then printed out, snipped up and crafted with!
For everyone else who joined in the competition; thanks - I'll do another one soon.
The personalised silhouette craft and party printables are available to purchase online.
Any questions, suggestions, or feedback, feel free to write to me - I love a bit of cyber-chat! x