Weddings are always a beautiful event, the beginning of a new life for the young couple and a celebratory event filled with family and friends. With the multitude of weddings every month, at times it's hard to find something to wear. Finding the perfect wedding outfit is even more complicated when you are not direct family with the bride or groom. You don't want to overdress and at the same time you don't want to be underdressed, add to that you need to make sure your outfit is hijab appropriate. Iv compiled three outfit ideas that are hijab friendly, fashionable and wedding friendly.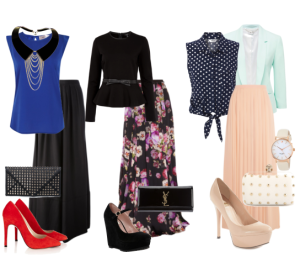 Outfit 1: The first outfit pictured I would describe as classy with a touch of edginess. By pairing the staple black skirt with pop out colors like royal blue and red, the classic staple gets a sophisticated twist. Add a studded clutch for a glimpse of edgy.
Outfit 3:  What I love about this outfit is it can be used for both a wedding and girl's night out. Floral are the perfect alternative to the glitzy sparkles many lean towards at weddings. Its toned down appeal with a semi fitted black top is the perfect girly look for a wedding. Black isn't a usual wedding color, but with the floral print and the classiness of a shiny clutch and velvet wedges transforms the look entirely.
Outfit 3: Definitely an out-of-the-box wedding outfit. Staying away from the usual wedding colors, a chic mint blazer with a cream skirt will have all eyes on you. This ultra fashionable outfit is probably a step out of the comfort zone for most. The cool colors of the tan skirt and mint blazer partnered with a navy polka dot top gives depth and definite uniqueness to the look.
These three unique looks are the perfect alternatives to that same dress you've been styling for every wedding, so step out of your comfort zone and make your mark!