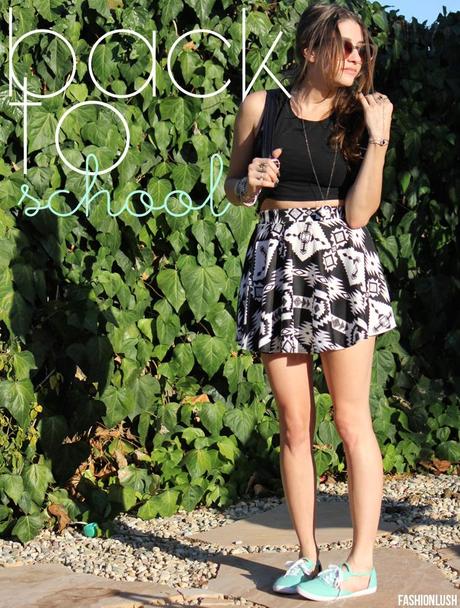 When LuLu*s came to me to ask me to participate in their back to school week with a fun DIY project, I was all in.
Even though my school days are a distant memory, I will never say no to reliving my youth. Not to mention, I have always had regrets of what I wore to my first day of high school. Literally, it may have been the most hideous outfit I've ever worn/seen. Tan cargo pants from A&F and a tan ruched tank top… with Jack Purcell's and a gray mini Jansport backpack. Ew. Make me puke.
I blame the times, because back then… this was considered cool. So yea, if I could do that day over again- this outfit would have been much more up my alley. Black, white, and a pop of teal- just my style.
OH YEAH, the DIY part of the outfit! Wellll first, I decided to get weird and upgrade my basic minty sneaks (similar ones here) with some sexy little cut outs. Then, to tie it all in and match the shoes, I painted the underside of my new studded leather backpack with the same teal color of the sneaks. See how all the magic was done on the LuLu*s blog HERE.