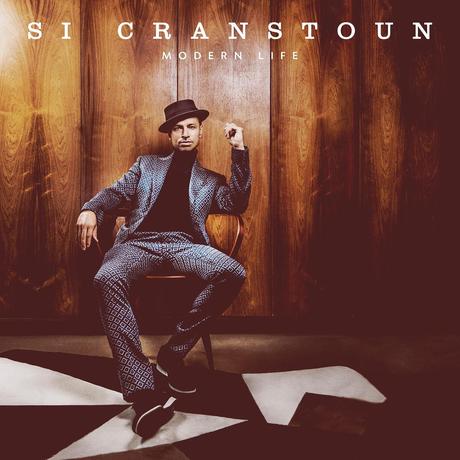 Having reviewed Si Cranstoun's soon-to-be-released single 'Never Gonna Let You Go' I just had to tell you about his album, Modern Life.
If you're into the Sam Cooke/Jackie Wilson vintage pop sound then you will adore Si Cranstoun. I listened to the whole album and assumed these were pieces were covers of old Motown hits, so familiar were they. How surprised was I when looking at the sleeve notes to find they're all original compositions (with the exception of the two bonus tracks 'Twisting the Night Away' and 'Build Me Up Buttercup') with Cranstoun either partly or wholly credited as writer.
I think this is Cranstoun's secret. His years spent busking on British streets has honed his style so that even on first hearing you think he's an old friend you've been comfortable with all your life. But don't be fooled – this isn't music to ignore or chill out to. Cranstoun gets you on your feet and bopping. You simply can't help it (well, I couldn't anyway!) – his enthusiasm backed by a fabulous band seems to have so much energy it spills over, out of the speakers and into the listener.
'Caught In The Moonlight (Official Lyric Video)'
Although working within a particular sound-scape, Cranstoun cleverly avoids monotony with a combination of style and evocation of well-known songs of yesteryear. He moves from soulful feel good tunes with 'Caught In The Moonlight' to the samba-like trumpet opening with a ska-like bass beat in 'Dance For Evermore'. He follows this with 'Shout Out', a Blues shouter which pays more than just a little homage to Lulu's 1964 'Shout' but with Cranstoun's own unique twist then goes Motown for 'Gods of Love'.
'Modern Life' pays homage to big band swing era beginning with a version of the riff to Glenn Miller's 'Pennsylvania 6-5000′ (with even the same opening pitches!) but then hits the bass 'n' blues with the toe-tapping 'Tick Tock'. 'Cry Me A Smile' proves that Cranstoun isn't a one-trick pony as he croons this beautiful soul ballad and then effortlessly goes on to 'Monica' – the most genuinely 'modern' song of the album – which is very different to everything else (at least until you get to the chorus!).
Then we're back to the Si Cranstoun we've loved all our lives (since we began listening to the album); 'Like It Like That' is a sexy funky song which I can see being a favorite for clubbers this year if Cranstoun hits it as big as he deserves.
It's no surprise that this guy is hailed to be 'the voice of 2015′. He's got the voice of a gloriously happy Summer and TV loves him – If ever a face fitted the music it's Cranstoun. It's a joy to watch the little man in the hat bopping his socks off and making everywhere he performs feel good.
The album 'Modern Life' came out last year and is available from iTunes. The single 'Never Let You Go' is released on 16th February.