Catch Damascvs along with Yume and Edmondson this Saturday at The Yard in Hackney, London (hosted by ZAWAVES).
The Doughnut: How was your tour?
Damascvs: It was amazing. It was my first time on on tour and it was a lot more tiring than I imagined. But every night the shows were on point and everyone killed it.
TD: What was your favorite stop?
Damascvs: All the stops were cool tbh but I think the party in Joburg was the livest.
TD: What is your relationship with Quit Safari?
Damascvs: Quit Safari is a bunch of idiots sitting around. We tryna make that big money. We don't do much.
TD: What's your role in the collective, if I can call it that?
Damascvs: My role is just to make music. Seb and Bas handle most of the day to day stuff, we all discuss shit together but I'm [not] too into the organisational side of things.
TD: What visual artist would you most like to collaborate with?
Damascvs: Beardsley! But someone living… I'm quite a big fan of bootymath's work. I don't think I know enough good visual artists, i'm not super into visual art tbh.
TD: What UK-based producers or labels do you admire?
Damascvs: Edmondson (who is playing with me in London) is a killer. I know a bit about the obvious ones like Warp and Hypercolour, Werkdiscs. I'm a big fan of Actress (obviously).
TD: You were once an MC, do you still freestyle over any of your beats?
Damascvs: I still make rap music, in fact the thing I'm working on right now is a rap project.
In the past my work as Damascvs was kinda separate from rap I think. Now they are coming together more, but there is definitely a line between my instrumental stuff and things that have vocals.
ZAWAVES – Damascvs @ The Yard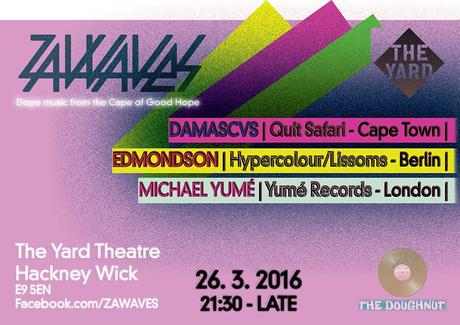 TD: What is your setup for live performances such as your upcoming show in Hackney?
Damascvs: I just bring my laptop, a controller and a sp 404.
TD: What's next for Damascvs?
Damascvs: I wanna get to the US sometime soon. But I'll also just be at home working on a few different things or tryna write a novel.
TD: Do you have an opening line or extract to share?
Damascvs: Nah mate.