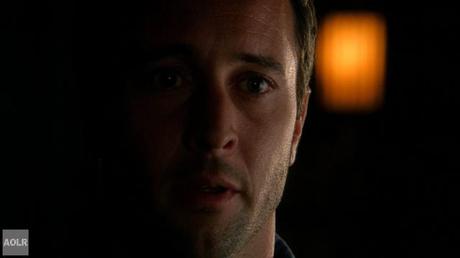 McGarrett's visage again ends Season Finale -Courtesy AOLRocks.com
(Click "Play" above to hear podcast)
This week my Hawaiian sister @WendieJoy and I talk about the season 2 finale of Hawaii Five-0 and do a bit of a wrap-up on the past season.
The Season 2 finale is entitled, "Ua Hala" (Death in the Family) and Wendie breaks down the title's meaning in Hawaiian.
Other points we cover include:
-Was this Season's ender- worth the hype and the wait?
-Good points- what we liked:)-
-Performances of  the 4 main characters- what was awesome, who stood out.
-Constructive Criticism about the episode.  Was it a copy-cat of last season? What's up with other CBS season enders: Criminal Minds, NCIS and NCIS: LA etc. all having very large explosion filled episodes too!
-Reaction to Shelburne? Did we know, do we buy it, why would MOM stay away for so long?
-What we think will happen with these story lines in Season 3
-The addition of "Cath", Steve's navy love-interest, (played by Michelle Borth) to the cast next year.
-Our plans for the summer!
Thanks for tuning in to our little Podcast!  Let us know what you think by leaving comments on the blog! Don't forget to check in with @WendieJoy for new posts to her Five-0 Redux blog all summer at the Honolulu Star Advertisiser's Pulse Website.
ALOHA!
WEBSouffle