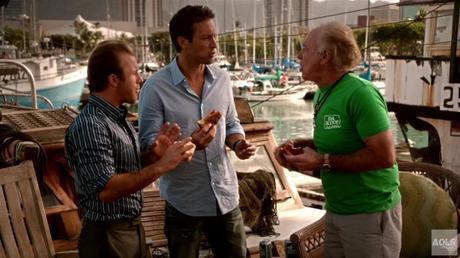 Courtesy of AlexOLoughlinRocks.com
ALOHA and Welcome back to WebSouffle's Hawaii Five-0 podcast, where we focus on discussing the CBS reboot of 'Hawaii Five-0, set in beautiful Hawaii.
This week my Hawaiian sister, @WendieJoy and I talk about the latest new episode of Hawaii Five-0, the 18th of Season 2. Entitled, "Lekio" or "Radio" as it's translated by CBS,  it features special guest stars, Dennis Miller and James Caan, father of Scott Caan who plays Det. Danny Williams.
This week's topics include:
-Wendie's always fascinating breakdown of the title of the episode and how it's more of an adaptation of an English word than a Hawaiian derivation,
-Dennis Miller, the actor – comedian and radio star, the acerbic ranting wit who as Officer808 puts it in his Five-0 Undercover Blog,  gets the 'Rick Springfield treatment' in an early and explosive send-off." Make sure to catch the his funny article, "What We Learned about Hawaii from Hawaii Five-0, Episode 218, "Lekiō" at his blog.
-Cops and why we don't envy them as parents (ie: Danny and Grace's heart-to-heart about boys being evil) We also discuss the concept of "artistic license" and how they really don't make enough to live at the Hilton Hawaiian Resort in Oahu!
-Danno's shirtlessness (sorry, we HAD to go there!)
-Max's freak-out after the kidnapping of the dead radio star's body
-Caan "Squared" The fabulous James Caan appears on the show alongside McGarrett and Danny (his son, Scott Caan) with a performance that is a real Tour De Force. The banter, the laughs, and the nicknames are priceless! Not to mention the addition to the Carguement scenes! (For more about James Caan's time on the set, see an excellent article written by one of Wendie's colleagues at the Honolulu Star Advertiser,  reporter Mike Gordon (aka @CrankyDad).
-Wendie elaborates on her Five-0 Redux Blog Post entitled, "Father Figure" and how this was the theme that permeated the episode. Perhaps the Hawaiian word for Father Figure should have been the real title of the episode!
-The lovely end scene filled with Tony Archer offering marriage counseling to McDanno, #cutedannotoes and NY style Pizza that you gotta fold to eat right.
and finally….
WEBSouffle and Wendie
do

talk about what we term 'The Elephant In The Room'
-the latest news about Alex 0′Loughlin needing to take a little time off to get his health in order and how much love and support we and his fans all over the internet are sending his way.
For more on that I direct people to my friend Mizzoh's great website AlexOLoughlinRocks.com to find a good article describing the situation.
"Hawaii Five-0" goes on a short hiatus for the next two weeks, with repeats of two of the more popular episodes from season two. "Mea Makamae" airs March 5, followed by "Ma'ema'e" on March 12. You can read Wendie's reviews of these episodes at her blog, 'The Five 0 Redux' at the Honolulu Star Advertiser's Pulse Website, linked above.
And the next new episode 2.19, named Ka lele  ("Faith" or "Support")
will feature Ed Asner reprising a role he played from the original Hawaii Five-0 where Jack Lord's McGarret (in this case, Steve's father, Jack) put him in jail and now he is to be released. It will also star Taryn Manning as Steve's sister, MaryAnn.

Finally, 5-0 fans and listeners, don't forget to catch WendieJoy's  Five-0 Redux blog on the Honolulu Star Advertiser's Pulse website. Its a great way to get your Hawaii Five-0 reviewed with a side order of Hawaiian culture!
Make sure to tune in again at alohavermont.com, leave your comments about the episodes and our podcast and please don't forget to "Like" WEBSouffle's Facebook Page for updates.
Much Mahalo for listening and Aloha to all!