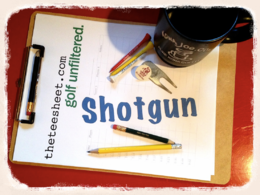 NICKLAUS HELPS TIGER GET ONE MAJOR CLOSER
If you even needed more proof that Jack Nicklaus is aging with the grace and dignity, consider his comments this week regarding Tiger.
First, he indicated that thought the ruling on Tiger at the Masters was correct. This wasn't an off the cuff remark but he clearly understood the situation confirming that "they could have disqualified him." In other words, Jack's sense of things were in line with the technical analysis and he knew it was a new precedent. He agreed with the ruling and waiver of the disqualification.
Nicklaus actually had some more interesting were his comments during the Masters. In talking about majors, Jack said:
I was probably at 17 or 18 majors, including the Amateurs, and all of a sudden I had 15 or 16. What happened here? All of a sudden it became 'professional' majors. ... When I passed Jones' record, it was with the amateurs ... Because they didn't really count Tiger's [U.S. Amateurs] as majors. Rather than counting Tiger's as majors, they didn't do that, and they sort of took mine away.

This is a fascinating quote from Jack with a couple of subtexts. 
By suggesting the U.S. Amateur should still be a Major, he is actually putting Tiger one Major closer to tying or breaking his record for Majors. Tiger won three U.S. Amateurs compared to Jack's two. It seems unlikely he thinks Tiger's U.S. Amateurs are of lesser value (although it may be arguably they may be as the amateur title has become less signigficant - but more on that below). Thus, Jack is almost implying the major count sould be Nicklaus with 20 and Tiger with 17.
Does Nicklaus implying the golfing establishment somehow didn't want to acknowledge Tiger's dominance back in the 90's by considering his 3 consecutive U.S. Amateur wins 'majors'. It kind of seems like it. When reading such a quote, it is not possible to ignore the potential racial component when this suggestion arises. I don't think Jack is calling the golfing establishment and media racist. But, at the same time 1994 (the year of Tiger's first U.S. Amateur) is now almost 20 years ago. Things have changed. The world was different in the early 90's. There were essentially no black golfers (okay, that is pretty much the same) -- but from a race relations standpoint, we were still 4 years away from having a ficitonal black president in the movies (while Morgan Freeman in Deep Impact was not exactly Oscar material, it was of course later that Chappelle produced probably one of the funniest fictional black presidents - and from a golf standpoint, Chappelle was not easy on Tiger Woods either). I'm sure Nicklaus has no desire to get into a discussion about race but maybe there is a part of him that senses Tiger had some extra challenges because of his background and race (after all, a Masters Champion still had this attitude in the late 90s). That may be a fair sense and Jack is such a generous person, but a look at media reports prior to 1994 does suggest Tiger (and his race) were not involved in the move away from considering the U.S. Amateur a major.
Anyway, race relations is a bit beyond the scope of this article. The issue raised by Jack is the interesting one. Let's consider how the media portrayed majors. 
Consider this beautiful excerpt of Dave Anderson's excellent column in the New York Times after Nicklaus' increditble Masters win in 1986:
And play golf he did, as only he can, as only he has. In assessing the exalted in other sports, debates always develop. Pete Rose or Ty Cobb. Muhammad Ali or Joe Louis. Walter Payton or Jim Brown. John McEnroe or Bill Tilden. Wayne Gretzky or Gordie Howe. Larry Bird or Oscar Robertson. And in golf, a few old-timers still prefer Bobby Jones or Ben Hogan to any of the modern golfers with all their modern equipment.
But now Jack Nicklaus has ended all the golf debates, if any still existed. Now he has won 20 major tournaments, a nice round number that in the decades to come no one is likely to approach.
To appreciate what Nicklaus has accomplished, consider that he won his six Masters titles over a span of 23 years. Consider that he won his 20 major titles over a span of more than a quarter of a century, beginning with the 1959 and 1961 United States Amateurs and extending through a record-sharing four United States Opens, three British Opens, five Professional Golfers Association championships and now the six Masters green jackets, two more than Arnold Palmer, the king he dethroned two decades ago.
Back then Nicklaus was resented by the Masters galleries who adored Palmer, but yesterday many of those same people cheered him, loved him, wept with him.
So clearly Anderson and the NY Times considered the U.S. Amateurs majors in 1986. 
Sports Illustrated also counted the U.S. Amateur as a major back in 1986. Rick Reilly's piece after Jack's win constantly referred to it as his 20th major and closed with this nice excerpt:
"This," said Nicklaus in triumph, "was maybe as fine a round of golf as I've ever played."
He drove down Magnolia Lane and out the iron gates in green for a preposterous sixth time. He had won atAugusta in 1963, when Sam Snead finished two strokes back, and '65, '66, '72, '75 and now, '86. That's a 23-year span between his first and last fitting. His original jacket was a 44 long. "It fits me like a tent," he said. "I wore [New York Governor] Tom Dewey's jacket for years, and finally I had my own jacket made."
His record of longevity and dominance is un-equaled. And that includes his victories in five PGA Championships(1963, '71, '73, '75, '80), four U.S. Opens ('62, '67, '72, '80), three British Opens ('66, '70, '78) and two U.S.Amateurs ('59 and '61). He has now won three majors in his 40s, which is another first.
All of which says, truly, once and for all, that if there ever was a better golfer than Jack William Nicklaus, thenWoody Allen can dunk.
"I finally found that guy I used to know on the golf course," Nicklaus told his wife, Barbara. "It was me."
So when did this characterization of the U.S. Amateur change? Jack suggested it changed back when Tiger won his three consecutive U.S. Amateur.
Of course there is also the delicious possibility that it is another way Jack can needle Arnold Palmer a bit (and Tom Watson who never won the U.S. Amateur). By counting the U.S. Amateur, it now makes it Jack 20 to Arnold's 8 (instead of 18-7 and would make him two more up on Watson 20-8).
Arnold himself thinks the U.S. Amateur is a major. Palmer is quoted in this AP article from 2005:
"That [the U.S. Amatuer] should be classified as one of the major championships," said Palmer, who won the 1954 U.S. Amateur before adding seven majors as a pro. "I don't know who downplayed it or why they did. Until they downgraded it, I used to say I had won eight. I've sort of backed off of that now, because no one recognizes it any more.
"To not recognize it as a major is too bad."
If not for the U.S. Amateur, there wouldn't be a Grand Slam.
This is the 75-year anniversary of Jones winning the four major titles of his time -- the British Open, the British Amateur, the U.S. Open and the U.S. Amateur. George Trevor of the New York Sun referred to Jones' feat as the "impregnable quadrilateral," while O.B. Keeler in the Atlanta Journal later called it the "Grand Slam."
And that's what inspired Palmer in 1960 to reinvent the notion of winning all four majors in one year.
He won the Masters and U.S. Open and was on his way to St. Andrews with Pittsburgh sportswriter Bob Drum. They got to talking about Jones, and Palmer suggested a new Grand Slam.
"That became the talk of the town," Palmer said. "They dropped the status of the Amateur, and I'm sorry they did that. How can you say Jones won the Grand Slam if you don't include the Amateur?"
 So when was the change?
I suspect it is not simply a matter of having counted Jack's US Amateur majors from the 60's and then not being able to go back and "un-count" them. Even Arnold in his quote acknowledged it is something that just seems to have happened over time.
If one looks at Hal Sutton's PGA Championship win in 1983 in the SI Vault, Dan Jenkins (that is about as good as authority as you can get) refers to Hal Sutton's 1980 U.S. Amateur win as a major championship. So within 3 years before Jack's Masters win in 1986, Sports Illustrated was counting the U.S. Amateur as a major even for a player with only two majore wins. It was not seem like a matter of counting Jack's because he had som many and from back when it was more meaningful.
Does it really change with Woods? There is some evidence to suggest Woods had nothing to do with the change.
Jose Maria Olazabal won the Masters in April 1994 (before Tiger's first U.S. Amateur) and the articles in the NY Times and Sports Illustrated made no mention of his British Amateur champtionship as a major and thus whether the Masters was Olazabal's second major. A review of Justin Leonard's 1997 Open Championship makes no reference to his prior U.S. Amateur in 1992 as a major.
A look at the articles about the 1992 Open Championship and PGA Championship could be helpful because 1978 U.S. Amateur Chamption John Cook contended in both those events. The articles in the SI Vault and The Spokane Chronicle made not mention of majors for John Cook. In the NY Times article about the 1992 Open Championship, Jaime Diaz did not consider Cook's U.S. Amateur a major and wrote:
On the strength of Faldo's nervous bobbles and Cook's amazing resilience, the Californian took a two-stroke lead with birdies on the 14th, 15th and 16th holes, the last coming on a 20-footer that had the look of a clincher. Minutes later, Cook, the winner of five PGA Tour victories but no major championships, was looking at a 30-foot eagle putt on the downwind 550-yard 17th that would have wrapped it up. 
So, it looks by 1992, two years before Tiger's started his run of three consecutive U.S. Amateurs, the NY Times and the golfing world stopped considering the U.S. Amateur a major. Notably, Woods does nto consider considered his U.S. Amateurs majors (maybe he should).
Thus, if it was not a conspiracy against Woods, what happened?
It is most likely the quality of professional golf and international golf compared to the U.S. Amateur became too significant. This chance simply allowed its status as a major fade away. Consider the following:
When looking between 1986 and 1994 (between Jack's Masters win and Tiger's first U.S. Amateur), it was simply difficult to find many former U.S. Amateurs that were even near the top of the leaderboard at any of the profesisonal majors. John Cook in 1992 was about it.
British Amatuers during that period also did not fare so well in professional majors and professional golf in general with Olazabal the only real standout (actually, between then and today, only he and Garcia have made mentionable professional careers).
A look at the U.S. Amateur champions between Hal Sutton in 1980 through to 1993 did show the U.S. Amateur champion having any success in the professional majors during that same time period. In fact, there were no U.S. Amateur champions between 81 and 92 that finished even in the top 10 of any major in that time period except for Billy Mayfair. It is not surprising that the U.S. Amateur lost such luster.  Sure Phil Mickelson won in 1990 but that may prove the point. By the end of that decade, Mickelson was battling the burden of being the best player to never have won a major.
Thus, while there is sometimes suggestions that the golf world is tough on Tiger, the characterization of the U.S. Amateur should not be one of them. The U.S. Amateur lost its characterization as a major at least a couple years before Tiger's first.
If anything, looking back history will likely show that Tiger brought back prestige to the U.S. Amateur Championship. Other champions now can say it is a title they share with Tiger Woods ... and Jack Nicklaus.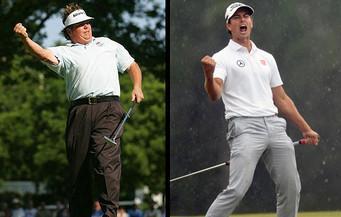 Click to expand ... if you dare
MORE LUMPY AWESOMENESS
Tim Herron does it again with the latest Dear Lumpy segment last week on GolfDigest.com. The highlight is the comparison picutre he provided with Adam Scott and claims they are always being confused. Sure it's funny and self-effacing, but I say Lumpy still looks more manly with the normal putter (that being said, thank goodness someone still makes pleated pants).
There was a call for to send range videos to him which I think could be very promising.
Douglas Han