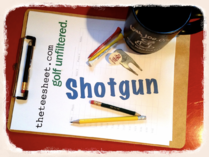 A METHOD TO THE MADNESS
Tiger's back. Tiger's not back. He'd kinda back but not exactly the same. There's been so many machinations of Tiger's back this weel that he had to call a chiroprator [I would like to thank my guest editor Jay Leno for contributing the last line]. There is one reason to believe that this time, Tiger return is real compared to the other several false starts over the past 2 years: the putter.
Woods' driver still seems a bit all over the place as usual and that is fine. He does seem mostly back to the a fade in pressure situations which is a good thing. As Johnny Miller once noted, all the greats hit a fade (I suppose aside from Hogan but I think Miller was talking more about the modern era - take note Padraig Harrington who got in trouble trying to move to a draw after Major wins). In some ways, Tiger succeded during his dalliance with the draw because of his short game and mostly his putting. Tiger's changes are to be admired. Changes to the swing are part of the journey through a career .. and even through life (cue CBS Masters piano music here). However, the exception is putting. Putting is not a journey. Putting is a destination. 
Tiger is the greatest clutch putter of all time. His struggles during his comeback from injury and sex-addiction (guys love that this is a thing now) often focussed on his swing. Sure his wedges and short game also were not the same, but most of the discussion was about his swing and work with Sean Foley.
But really for the fan, it was most jarring watching Tiger miss putts he used to pour in with certainty. In hindsight, it was the putter itself that just looked wrong. The switch to that Nike Method circa 2011 putter just looked goofy. Some things in sport don't or wouldn't look right: Ted Williams with a aluminum bat, Joe Montana in a Chiefs jersey, Gretzky without a Titan, Jordan in a Wizards uniform (well, anyone in the original Wizards uniform looked bad never mind the third jersey) or Rory McIlroy without his Titleist irons (wait a second ...).
Tiger simply looked wrong with the first Nike Method putter he tried. The shaft and neck looked wrong. The head looked wrong. The results were wrong. It was Itzhak Perlman without a Stradivarius. It started to look like her was going to miss putts when he lined up with that abonination. Woods changes by late 2011 but it really became apparaent when he started dropping the putts at the Honda Classic. He looked right again with the Titleist/Scotty Cameron Newport knockoff made by Nike.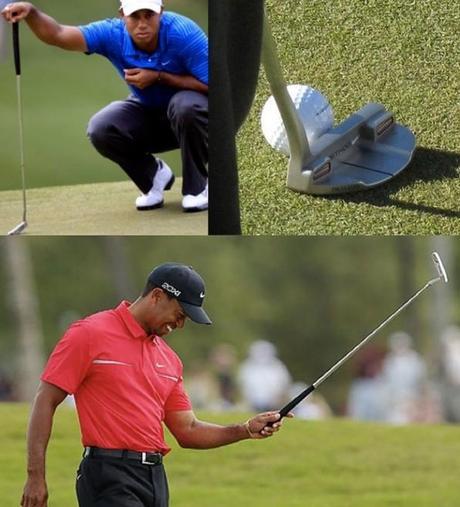 TOP: Tiger at Masters in 2011 with shaky Method putter lookinf justifiably concerned; BOTTOM: Tiger putting great at Doral with a Scotty Camercon knock-off Nike putter
We know that when Tiger first moved to Nike irons, they essentially tried to make his clubs look like his old Mizuno's at address for him. It ultimately worked. That's probably the best appraoch for Rory as he makes the change. 
Club changes can be handled relatively easily ... except for the putter. More than any other club and stroke, the putter and putting is all about calm, confidence, belief and comfort. It is probably one is never comfortable when Phil MIckelson settles over an important 4 footer with his putter-de-jour.
What was most interesting during the Honda Classic telecast was when Johnny and Jack talked about club changes. Nicklaus didn't feel it would be a big deal to Rory and mentioned all the difference irons he used to use and switch back and forth. Please NBC/Golf Channel, put that video up because Jack and Johnny chattign in the booth at Honda is one of the highlights of the year.
With Tiger's putting and putter looking solid again, the Major wins and Jack's record are now back on the table.
COVERT MAY DESCRIBE THE WHERABOUTS OF THE AD WRITERS
Uh, this is Tiger's latest ad.
This is depressing. This new Tiger ad is so much worse than Pete Rose's recent TV ad for a local Cincinnati mis-pronounced furniture store. At least that ad is funny in a sad way.
This ad is horrible for a several reasons:
it is not very fun which is a shame because Tiger has shown in the past to be a decent actor and able to have fun
it feels low-rent - is this really the same person that represents Rolex and Net Jets?
perhaps the most egregious crime is that they appear to be trying (and failing) to be funny
Granted, the elite athletes that do the Dick's advertisements probably want to get in and out of there in a hurry. It would appear Tiger had neither the time nor the inclination to hang around and get this right (or there simply was no helping this ad).
This in-store clerk bit is a bit of a take on the Modell's ads (a sporting goods  store in the northeast US) that had athletes with a bit more time on their hands to try to sell their own jerseys. They were hit or miss but it is sort of fun to see the athletes' real personalities like DeShaun Jackson, Landry Fields and Danny Woodhead. The funniest part of Modell's ads were that they mostly showed how the stores are mostly empty and the few customers are downtrodden.
Maybe Tiger was only be willing to be show up for a half a day of shotting. Even so, Dick's and Nike has to be willing to let decent writers get involved (as golf.com's Press Tent pointed out, the best of these style ads is with Tom Brady, which is laugh-out loud funny). Granted, the Brady ad involved the writers of funnyordie.com. That said, the effort by Nike and Dick's with the soon to be number one golfer in the world was just plain lazy.
EPIC FAIL [WITH AIR QUOTES]
We like golf.com's Press Tent as much as the next person, but they may be reaching a little here describing a little banter as an "epic twitter battle" between Keegan Bradley and Jason Dufner. More like some typical locker room trash-talk at best and hardly seems to warrant the breakdown. I hesitated to mention it here because it is so lame; but it does illustrate how desperate we are to get some real rivalries out there.
For the record, "epic" is a reach by any reasonable definition. Let's just say that the Urban Dictionary probably has the best definition of 'epic' as of now.
Douglas Han
@theteesheet