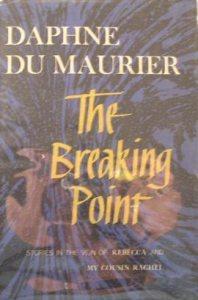 What's The Alibi all about?:
The apathy of Sunday lay upon the streets. Houses were closed, withdrawn.
"They don't know," he thought, "those people inside, how one gesture of mine, now, at this minute, might alter their world. A knock on the door, and someone answers – a woman yawning, an old man in carpet slippers, a child sent by its parents in irritation; and according to what I will, what I decide, their whole future will be decided . . . Sudden murder. Theft. Fire." It was as simple as that.'
In this collection of suspenseful tales in which fantasies, murderous dreams and half-forgotten worlds are exposed, Daphne du Maurier explores the boundaries of reality and imagination. Her characters are caught at those moments when the delicate link between reason and emotion has been stretched to the breaking point. Often chilling, sometimes poignant, these stories display the full range of Daphne du Maurier's considerable talent.
What did I think?:
To date, I've only read Rebecca by Daphne Du Maurier (an obvious choice!) but I've always wanted to try more of her work. When I decided to set myself this short story challenge, I thought it was a perfect opportunity to read some of her short fiction and this first story did not disappoint. Our main character, James Fenton is having a Sunday walk with his wife, something which he usually enjoys, until he realises something alarming. This happens every Sunday. And guaranteed they will be having supper with the Alhusons later, depending on whose turn it is to host. The thought of living this hum-drum existence knowing exactly how things will play out for the rest of his life terrifies James and on impulse, he decides to something completely out of character, just for a bit of excitement.
What I really loved about this story was not only how it felt, (like snuggling under a big duvet) but how the author surprises you (imagine now under your duvet you catch your foot in a mouse trap!). You're then not sure entirely what's going on, but the thought of putting the story down is unthinkable, you have to keep reading until it's finished. That's exactly how this author made me feel, and I salute her for it. I never really liked the character of James Fenton, even at the beginning of the story when it just seemed like it was about a man who was slightly bored with his monotonous Sunday afternoons. The other characters in the story, even the small boy who I was fairly intrigued by, are all secondary and minor characters in comparison with James, he is the one the reader is most interested in, on the edge of our seats, the tension is almost unbearable. The only reason it doesn't get the full five star rating is that I wasn't that sure about the ending, although the story itself is fantastic and incredibly readable.
Let me know what you think if you've read it!
Would I recommend it?:
But of course!
Star rating (out of 5):

NEXT SHORT STORY: Leningrad Nights by Graham Joyce, from the collection Tales for A Dark Evening