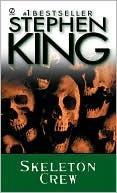 What's Paranoid: A Chant all about?:
In Paranoid: A Chant we get a frightening look into the mind of a paranoid schizophrenic as they tell us all the reasons why they don't go outside the house any more.
What did I think?:
When I first had a quick look at this, the next story in Skeleton Crew and in my Short Stories Challenge I have to admit to feeling a bit of trepidation. I could see that it was a bit of a departure from Stephen King's usual style, being a poem rather than a short story/novel and I have to be honest, when I first read it, I didn't really find much to shout from the rooftops about. As a result it took a few readings before I began to appreciate the point that King was trying to get across.
The poem itself is one hundred lines long and one of the most interesting things about it is that it ends in a very similar vein to the way it begins:
"I can't go out no more, There's a man by the door, in a raincoat, smoking a cigarette."
From the very start, the reader is propelled into the paranoid thoughts and delusions of someone who appears to be suffering from paranoid schizophrenia. We play the role of confidant as our narrator explains all the reasons (perfectly logical to them, of course) why they believe that someone is after them and wants them dead. The voice is in fact so convincing that you wouldn't be a complete fool for thinking that this person might actually be speaking the truth! They have kept a very extensive log of events that have happened which convinces them that they are being targeted and it is only because some instances appear so ridiculous that we then understand we are in the mind of someone who is clearly mentally unwell.
For example, the woman upstairs who shoots rays down through her lights by means of an electric suction cup attached to her floor, the dog that is sent to the house with a radio cobweb in its nose, the waitress in the local diner who is planting arsenic and cyanide in the food and finally the man who climbs up through the toilet to spy – the giveaway being his big muddy hand prints all over the porcelain of course! All of these things and much more besides means that our narrator must now write down her findings in the cover of darkness and become a virtual recluse in her own home.
This is a really intriguing look at mental illness and a rather unexpected change in direction for Stephen King that once I got my head around, I did thoroughly enjoy. The author uses staccato sentences which are packed full of descriptive language to get the message of a very disturbed person across in a very effective way. As the poem reaches its finale, the madness of our narrator's delusions only increase in intensity whilst becoming quite incoherent. For me, the reading experience was almost like watching a scary film as the music gets louder (and you just know something's going to jump out!) or anticipating a car crash just before it happens and it was a roller-coaster ride that I whole-heartedly appreciated. For another experience of this quirky and unique little poem, I also recommend the short film that I happened to come across HERE where the poem is told in its entirety. I'd love to know your thoughts!
Would I recommend it?:
But of course!
Star rating (out of 5):

NEXT SHORT STORY: Still Life by Dianne Gray from the collection Manslaughter And Other Tears