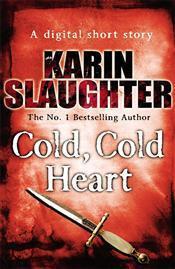 What's it all about?:
A chilling Valentine digital short story from the No.1 bestselling author of the Will Trent series.
Pam is a fifty-two-year-old teacher who has let herself go for the first time in her life. It's two years since her husband – ex husband – John died and she's heading from Georgia to California for the third and – she hopes – final time. But just what lies in store for her there…?
Previously in a collection edited by No. 1 bestseller Lee Child, "First Thrills," and now available on its own.
What did I think?:
I am a big fan of Karin Slaughter ever since reading her first novel and Grant County series Blindsighted which came out in 2001 and I highly recommend her to any thriller fans. This short story was fairly dark, as is her trademark, but didn't have as much of an effect on me as a previous story I read and reviewed for this challenge – The Blessing of Brokenness. We are introduced to a middle-aged woman called Pam who is separated from her husband after the tragic loss of her only son, but appears to be enjoying her life working as a teacher, although she feels incredibly lonely. As we meet her, she is on her way to California for what she tells the reader is the third time in her life, to deliver a "special something." We then learn about her troubled marriage with her husband, and the extent of emotional cruelty that she experienced under his hands, especially after the death of their son even though she was constantly a rock of support for him. Now in her fifties, she receives a call from her ex-husband to tell her he is dying and wants to see her one last time. Finally feeling in control of her life and free from his brutality, she exacts a tiny piece of revenge, which ensures she has the last laugh.
This is a wonderfully executed short story, with all of the author's brilliant wit and storytelling capacity that certainly had me enthralled. Her characters are so beautifully written, that I found myself desperately sorry for Pam, full of hatred for John, and almost rubbing my hands together with glee at the thought that she might get her own back. Well… he becomes a millionaire through writing a best-selling book on healing, and slates poor Pam at any given opportunity in his narration for the world to read (including her students), so surely he deserves a little literary pounding? Oh, and every time Slaughter mentioned the "self-satisfied smirk," which seemed to be continually present on his face, I just wanted to punch this non-existent fictional character!! Anyway, if you can get round to reading this cracker of a story, I'd like to hear what you think!
Would I recommend it?:
But of course!
Star rating (out of 5):

NEXT SHORT STORY: Come Rain or Come Shine by Kazuo Ishiguro from the collection Nocturnes:  Five Stories of Music and Nightfall