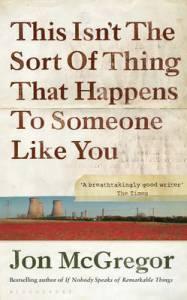 What's Vessel all about?:
Vessel is the story of a widow who receives an unexpected visitor one day in the shape of an old friend who brings her flowers.
What did I think?:
I really, really love Jon McGregor's writing. Seriously, if I could bottle his talent and then release it into the world, this is the sort of style that I absolutely adore reading and with every story in this collection, I'm always anticipating something quite special. Vessel was another one of these, although I have to admit I had to read this two times to really appreciate what he was trying to say (which wasn't a problem as it was not only delicious to read but also incredibly short at less than ten pages). Once I had reached the end a second time however and enjoyed that last gorgeous line, something clicked into place and although there was still so much that was unsaid in the narrative, I thoroughly enjoyed every word.
Vessel follows our main female character Mary who has just been treated to an unnamed male guest turning up at her door bearing tulips that it is obvious she has not seen for a while. She is a widow and her husband James is obviously still very present in her thoughts, especially when she begins comparing the two men, for reasons we do not know. It's clear that she does have some feelings towards her mysterious visitor but is harbouring intense guilt for these feelings and constantly keeps having to remind herself about James. The visitor in turn seems to have strong feelings for Mary and is attempting to bridge the gap between them by suggesting that they could get closer. The end result is that Mary ends up seeing him a lot differently because of his behavior and actions towards her.
Is this a good thing or bad thing for Mary? We'll never know (although I have a sneaking suspicion!) as Jon McGregor ends the story with a lot of things "up in the air." It is left to the reader to interpret things that possibly went on in Mary's past and what could potentially happen in the future. Sometimes I feel frustrated when stories end like this but funnily enough, I've never had that reaction with this author. I don't know why but his style of writing and wrapping up a story is always more tantalising and intriguing than irritating – perhaps that's one of the reasons I love him so much. There's a bucket-load of things that are hinted at in this story or just purely passed over. For example, our visitor has found it quite hard to get flowers, Mary hasn't seen any for a while and in return, our visitor is quite surprised that Mary has milk, two things that appear to be a rare commodity. We are never told why this is and I so wanted to know! Is there war? Has there been an apocalypse? I'll never find out and part of me feels a bit sad about that but mostly I just really enjoy letting my imagination run riot.
Would I recommend it?:
But of course!
Star rating (out of 5):

NEXT SHORT STORY: Free Fruit For Young Widows by Nathan Englander from the collection What We Talk About When We Talk About Anne Frank.
Advertisements