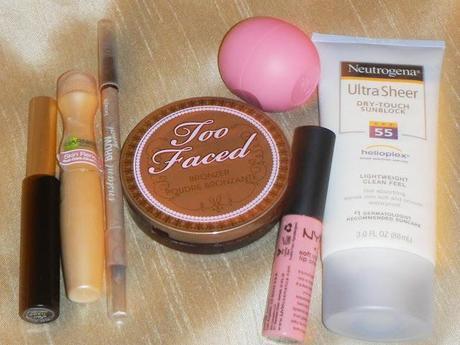 Shopping your stash is a great way to switch up your makeup without spending money.  So since it's summer time I thought I'd do just that and came across some products that I had forgotten about and am now reintegrating into my makeup routine.
So here they are:
1. L'Oreal Liquid Eyeliner: Well liquid eye liner in general but I have been using this one the most because I like how pigmented it is.  I have heard that L'Oreal does/doesn't test on animals and I'm not sure which is true so if any of you know for sure or could link an article or something explaining it I would really appreciate it because I don't want to support a company that tests on animals!
2. Garnier Skin Renew Anti-Dark-Circle Roller:  I've always loved this product but kind of started neglecting it because I wanted to try out other products.  I love this because of how quick it is and the cooling effect it gives under the eyes from the metal ball.
3. Benefit Instant Brow Pencil:  I stopped using this because I fell in love with my Anastasia Brow Pencil and had been using it every day for months.  But now I'm out of the Anastasia pencil and back to using my Benefit one.  I love this pencil but find it a little rough feeling compared to the Anastasia one also the Benefit pencil used to be my HG brow pencil but now it's moved to second place behind the Anastasia pencil.  (Haha how many more times do you think I can fit the names into this post?)
4.Too Faced Leopard Print Bronzer (Pink): This I bought last summer and found it to be a little dark for me unless I'm really tan.  It gives a pretty bronz-y glow to the cheeks with a little natural pink flush mixed in and has a small amount of shimmer to it, but not too much.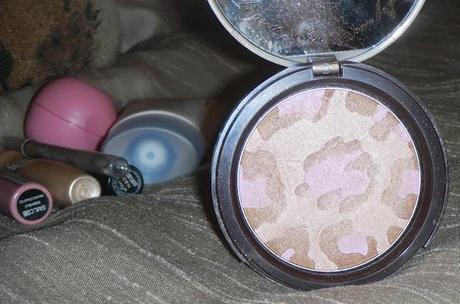 5.EOS Lip Balm:  The one in the picture is the Strawberry scent which I just recently picked up but I had been using EOS for awhile but kinda stopped the past few months.  I picked this up because I love that it's a natural product and really like using it before I put on lipstick.
6.NYX Matte Lip Cream in Istanbul: I bought this awhile ago and never really used it but picked it up a few days ago and have been loving it.  It's a pretty natural pink color and when I put it on I found it made my lips look really full.  I already have pretty full lips so for something to make a noticeable difference in them is saying something.
 7.Neutrogena Ultra Sheer Dry-Touch Sunblock SPF 55:  Now I know what you're thinking..SPF 55?!  Yes, 55!  I wore this every day last summer mixed in with my moisturizer.  I have very sensitive skin and skin cancer runs in my family so I'm all about the most in sun protection and I just get my color from my St. Tropez self tanning lotion.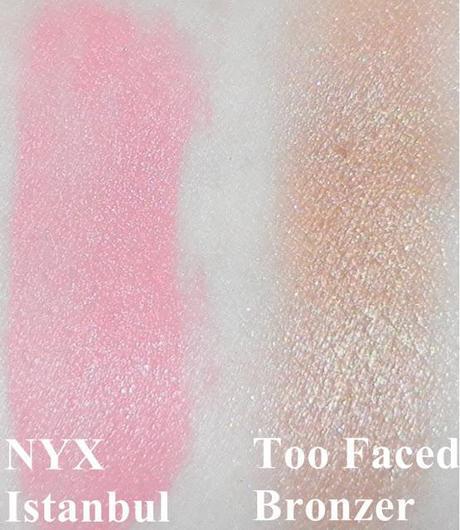 This picture was taken at night so I had poor lighting and had to use quite a heavy flash which is why my arm looks so ghostly white!
Also please don't forget to vote for me for the Blog Cat Award!  You can head over to Blog Cat to vote!:)
Vote here!:)