New York City boasts some of the best shopping in the entire world. Home to the original Macy's in Herald Square and the luxury boutiques of 5th Avenue, local shops often get lost in the mix. This Saturday is "Small Business Saturday," which is a great opportunity to explore some privately owned stores that reek of character. Shopping local is a great way to support your local economy and find unique gifts for your friends and family. Check out some of my favorite small businesses in New York.
1. Farm Candy, Seaport District
Farm Candy is an adorable shop in the South Street Seaport in Manhattan. Although its been around for years and I've walked by it a thousand times, I only noticed it recently! They sell everything from infused salts and loose tea to tongue-in-cheek jewelry and cashmere wraps. While Farm Candy's goods appear expensive, most things are very fairly priced. The shop boasts a rustic, authentic feel- similar to Anthropologie, but far more unique as they sell both new and vintage goods.
Located At: 21 Fulton Street in South Street Seaport, Manhattan.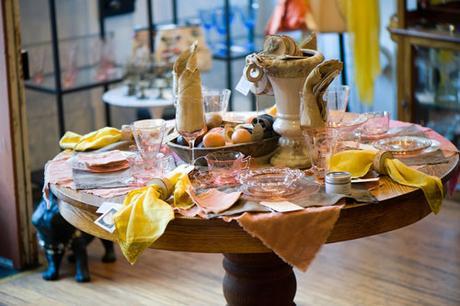 2. The Holiday Handmade Cavalcade, Chelsea
The Etsy NY Team is returning to Chelsea Market to host its ninth annual avalcade's charitable partner being the Holiday Handmade Cavalcade with a selection of handmade goods from over 50 indie vendors based in the tri-state area. Etsy NY is also upping the anti with swag bags for their first 100 shoppers on Saturday and Sunday. On Thursday, Brooklyn Brewery is hosting a photo booth where you can "sip 'n shop." Each vendor supports a charity of their choice, with C Animal Care Centers of NYC. The Pop-up market is open from 10am to 7:30pm December 5th through December 11th,
Located At: 75 9th Avenue in Chelsea, Manhattan.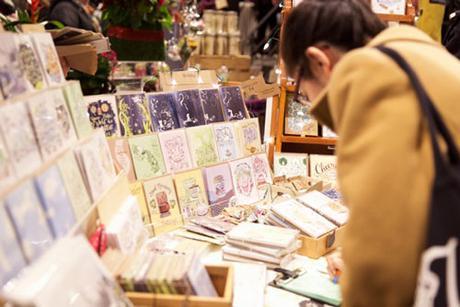 3. French Sole, Upper East Side
Despite its European name, French Sole is one of New York's most fabulous local shoe stores. With three locations on the Upper East Side, French Sole is in the heart of one of Manhattan's most coveted shopping destinations. A city girl needs comfortable walking shoes, and French Sole's modern ballet flats combine fashion and function. Made with high-quality materials like soft Italian calfskin and Spanish kidskin, there's a pair for every style.
Located At: 985 Lexington Avenue, 976 Lexington Ave, and 972 Lexington Avenue on the Upper East Side of Manhattan.
4. The Salty Paw, Seaport District
This neighborhood canine boutique and grooming center is fan favorite in downtown Manhattan. It's arguably one of the best groomers in the city and is knows as the "original pet emporium." The small space, located in the South Street Seaport, sells everything from dog clothes and unique toys to organic treats. The Salty Paw is Joey Buttons' favorite salon, and we can't recommend it enough.
Located At: 38 Peck Slip in South Street Seaport, Manhattan.
5. Ricky's NYC
Beauty junkies will love Ricky's for their unique offerings of make-up, hair products, styling tools, and more. This edgy store has a diverse cult-like following in the city as they appeal to a wide variety or women. They have several locations throughout Manhattan, Queens, and Brooklyn, so it's a convenient store to pop into for some of the hottest trends in beauty.
Located At: Everywhere! Check them out here.