Shoney`s Country Fried Steak
To have something you like,  if you are like me and you can`t live without steak, especially a fried steak than you would love this shoney`s country fried steak. Now I know this recipe cannot be counted as your normal healthy lunch ideas because first the recipe is all fried and plus in my opinion it tastes better with potato chips. Both makes it quite an un- healthy lunch ideas. Any ways once in a while I actually don`t mind having something unhealthy. And I guess I am not alone out there to think like that . Thumbs up for those of you who at times think or feel like me. This fried steak just tastes divine. A recipe that talks for itself, give it a try and let us know what you think of this un- healthy lunch ideas Shoney"s country fried steak.
Ingredients:
3 cups water
2 cups flour
2 teaspoons salt
1/4 teaspoon black pepper
4 4 Ounce cube steaks, trimmed, flattened
1 1/2 Tablespoons ground beef, lean
1/4 cup flour
2 cups chicken broth
2 cups milk
1/4 teaspoon black pepper
1/4 teaspoon salt
Directions:
Put water in medium bowl.
Sift flour, salt, and pepper together in another bowl.
Dip steaks in water, then in dry mixture.
Repeat.
Lay coated steaks on wax paper and freeze for 3 hours.
Deep fry steaks in 350 degree oil for 8-10 minutes.
Drain on paper towels.
Brown ground beef in skillet.
Stir in flour, then remaining ingredients.
Bring to boil, then simmer until thick.
Pour gravy over steaks.
Enjoy!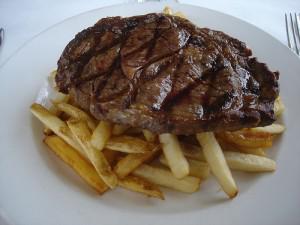 Photo by: pondskipper