Britain is in the grip of a heatwave. No one has seen a cloud for 3 days now. There have been three consecutive days of over 25 degrees Celcius and reports of melted badgers being found in the road are rife. The Government have responded by reversing their ambient pie tax due to the confusion in the temperature.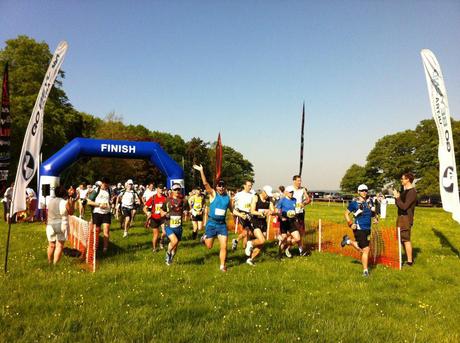 The trick in this weather is to at least look cool
The heat was on everyones mind as we started in the lovely surroundings of some big manor house I've forgotten the name of in Northamption. This was a return to British racing for Ian Sharman, who you might recall as the guy I once beat in a 50 miler. I wondered if he had got any better since then.
This was actually a bonus race for me. I ran the Country to Capital a few months back and entered Gemma into the same race and so put it on the joint account. Gemma decided not to do that race so defered her entry to this one. She then decided not to do this and so transfered the place to me. Brilliant, two races on the joint account. Free running, I like that. I suspect I might have to pay it back in some way though.
I met up with Sam Robson at the start who I had not seen since he fell off his bike and was gradually getting back into it. His physio said don't increase the mileage by more than 10% but did not specify a timeperiod for this. So Sam read this as 7 miles one hour then 7.7 the next, then 8.47 etc. It's a good rule. I also saw fellow Endurance Life ambassador Israel Archuletta who has been awake for about 20 minutes and was trying to drop his eyes open with a large bottle of gatorade.
I ended up running the whole route with Rob Westaway who has a couple of biggies coming up such as the awesome looking Irontrail and then the UTMB. He was a bit non-plussed that the route was mostly on road but I quite liked it and as a mental note for next year this is a great Spartathlon training run, rolling hills through beautiful countryside. I didn't take any photos though so the only evidence I have is me looking like a dick.
We set out a little fast before the heat kicked in and the navigation was fairly easy, well I was just following Rob anyway, he likes reading maps. The checkpoints were about every 7 miles and usually in small towns with lovely houses and churches. At around 15 miles we were cheered by the biggest crowd I have ever seen in an ultra, there were literally almost 20 people clapping at us.
Though we slowed a bit by the end I was happy with the run and walking the hills and making sure my hydration was sound. Having spend over 30 days last summer in 40C temperature I've learned the importance of hydration and electrolytes. Having said that I was spanked in my 7 mile run with the Serpies on Wednesday, probably because all I usually drink is coffee and beer. I guess it might be time to have a glass of water during the day now. Even though we slowed we didn't get passed by other runners generally which means everyone else must have done the same. We were passed by about 15 others when we made a few navigational errors in the last 6 miles. I blame Rob, he was in charge of map reading and I was in charge of scintilating conversation.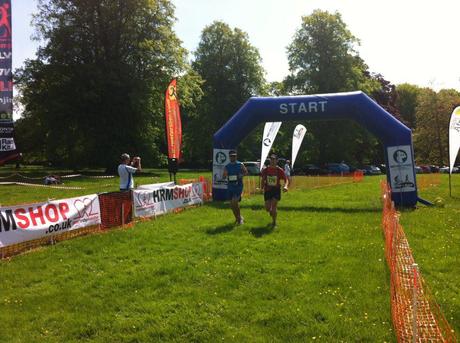 So with a target of around 6 hours for the 35 miles and we finished in just under 6.30 so would have been on track probably. It was a lovely run, lots of cake at checkpoints, not too hard to navigate, probably about 2/3 road and 1/3 fields. Perfect first ultra I think and the guys at Go Beyond always put on a great race.
You didn't hold hands with Rob at the end. Were you annoyed by his navigational errors? There's definitely an uncomfortable gap between you both after 6.5 hours of scintillating conversation.